Easing surf, new run of westerly swell from Friday evening
South Australian Surf Forecast by Craig Brokensha (issued Monday February 17th)
Best Days: South Coast tomorrow morning, late morning to early afternoon Fri, Mid Coast late afternoon Friday but more so Saturday, Sunday, Monday and Tuesday
Features of the Forecast (tl;dr)
Easing surf Thu with freshening NE tending E/NE winds ahead of late afternoon sea breezes, small, inconsistent Fri with gusty N/NE winds, easing while tending N/NW ahead of a late change
Inconsistent W/SW groundswell Fri PM on the Mid with NW tending variable then SW winds, peaking Sat with S/SE-SE tending S/SW winds, a touch smaller Sun with similar winds
Moderate to large W/SW groundswell building Mon with S/SE tending S/SW winds, easing Tue with strong S/SE winds
Recap
Fun waves the last couple of days with a peaky, lumpy 2-3ft wave yesterday, increasing a touch in sized today with a new mid-period pulse and better winds. Conditions are great and the Mid is just a tease and tiny.
This week and next (Feb 18 - 26)
Our inconsistent, mid-period SW swell is peaking across the state today and from here, the size and power of the surf will fade into the end of the week.
Easing sets from 2ft or so are due across Middleton, tiny on the Mid Coast, back to 1-2ft respectively Friday. Winds will freshen from N/NE tomorrow morning, tending E/NE around midday, giving into sea breezes late afternoon.
Friday's stronger N/NE winds are still expected, easing and tending lighter N/NW into the afternoon ahead of a trough and late afternoon change. With the small swell though, hit up the swell magnets from late morning through early afternoon for the best conditions. The Mid Coast may see a period of variable winds as winds swing NW to SW late afternoon.
Our new, inconsistent W/SW groundswell for Friday afternoon and more so Saturday is still on track, with it generated by a distant, strong frontal progression firing up towards Western Australia. The first signs of swell are due Friday afternoon, with a tiny increase to 1-1.5ft due though with those onshore winds (possibly variable for a period), peaking around 2ft Saturday on the swell magnets. The South Coast isn't due to see much size with infrequent 2ft sets across Middleton.
Winds will be best for the Mid Coast Saturday, tending S/SE-SE, with the South Coast coming in bumpy and average. Similar winds are expected Sunday, though the swell will be smaller and back to 1-1.5ft, with a burst of strong W/SW winds under Western Australia tomorrow evening maintaining small levels of swell.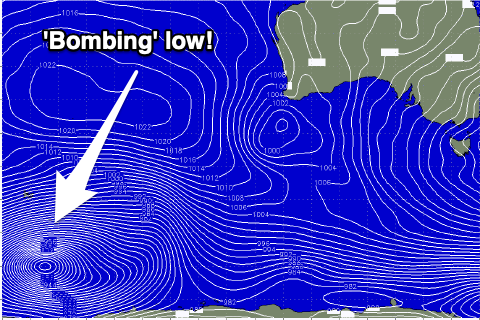 Of greater significance is the stronger, long-period W/SW groundswell due Monday afternoon. This is being generated by a 'bombing' low forming around the Heard Island region last night and today. A 'bombing' low is one which drops 24hPa or more in central pressure over a 24hr period, and we'll see this easily occur, with the central pressure dropping over double that!
It'll bottom out at 927hPa this evening, with a great fetch of storm-force W/SW winds projected through our far south-western swell window.
The low will weaken slowly while projecting east-northeast towards the country, continuing to generate severe-gale to gale-force W/SW winds through our western swell window.
Come the weekend the low will be much weaker but persistent with strong W/SW winds being maintained through our south-western swell window until Sunday evening. This will provide reinforcing levels of mid-period SW swell after the groundswell peak.
The long-period energy is due to arrive overnight Sunday, building strongly through Monday ahead of a peak into the afternoon. Middleton should reach 4-5ft, if not for the odd bigger cleanup towards Goolwa, 2-3ft on the Mid Coast.
Winds will continue to favour the Mid as a ridge of high pressure moves ever so slowly east, keeping morning S/SE winds blowing Monday, S/SW into the afternoon and back to the S/SE on dark. Tuesday should see fresh to strong S/SE winds holding all day as the swell eases. Winds aren't expected to improve for the South Coast until Thursday, but we'll confirm this Friday.