Easing surf ahead of a new W/SW swell
South Australian Surf Forecast by Craig Brokensha (issued Monday February 8th)
Best Days: South Coast tomorrow morning, Wednesday morning on the magnets, Friday to Sunday Mid Coast, biggest Friday though
Features of the Forecast (tl;dr)
Easing SW groundswell over the coming days with a morning E/NE-NE breeze tomorrow, N/NE Wed AM
Fun W/SW swell filling in Fri, peaking into the PM with S/SW winds (possibly S-S/SE on the Mid early), easing Sat with S/SE winds
New SW groundswell Sun with S/SE winds, strengthening
Recap
A bit of size but sloppy 2-3ft waves for the keen on the Mid Coast Saturday, easing back to 1-2ft yesterday and still a bit lumpy though workable. The South Coast was fun in protected spots Saturday morning ahead of a change, then poor and bumpy yesterday.
Today we've got clean, tiny waves on the Mid and a bit more size down South with a new, inconsistent SW groundswell but with lumpy conditions.
This week and weekend (Feb 9 - 14)
Today's SW groundswell, generated by a strong low that fired up east of the Heard Island region through last week, will ease into this afternoon, dropping back further in size, power and period over the coming days.
Winds will continue to improve for the South Coast, with a E/NE-NE cross-offshore tomorrow morning but peaky, easing 2-3ft sets across Middleton. Hit up the eastern beaches or other protected spots for the cleanest conditions ahead of sea breezes.
Wednesday will be straighter N/NE offshore ahead of sea breezes and smaller, easing 2ft sets across Middleton. The swell magnets will be best.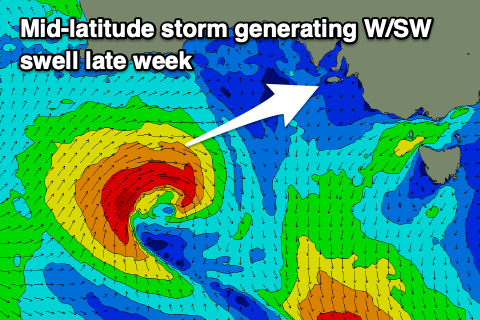 The surf should bottom out Thursday under fresher N/NE tending NW winds ahead of an approaching mid-latitude front.
Now, this front looks favourable swell production across the Mid Coast, with it developing south-west of WA, projecting a good fetch of strong W/SW winds through our western, then south-western swell windows as it dips slightly east-southeast mid-late week.
The front will bring a change overnight Thursday, leaving S/SW winds in its wake on Friday, possibly S-S/SE on the Mid Coast early. The swell should fill in through the day and peak into the afternoon with fun 2ft+ sets, easing from 1-2ft Saturday.
The South Coast won't see too much in the way of size with building surf to 3ft across Middleton, easing from 2-3ft Saturday morning.
Winds look to persist out of the S/SE on Saturday, favouring the Mid and creating bumpy conditions down South, similar Sunday but strengthening.
This will spoil a better SW groundswell that's due to fill in Sunday, generating by a stronger polar front firing up not too far behind the mid-latitude front. A fetch of W/SW gales will be projected through our south-western swell window, with the swell due to provide 3ft+ sets across Middleton, with the Mid pottering along at 1-2ft on the favourable parts of the tide.
There's no real improvement due to the local winds for the South Coast until Tuesday/Wednesday next week, meaning more swell wasted by winds from the southern quadrant. A small, new SW groundswell may be seen next Wednesday but we'll have a closer look at this in the coming updates.