Wednesday, 22 July 2020
Mix of small westerly swells continues
South Australian Forecast by Craig Brokensha (issued Wednesday 22nd July)
Best Days: South Coast tomorrow, Friday, Saturday, Mid Coast possibly late Monday but Tuesday, South Coast Tuesday
Recap
Monday's W/SW swell hung in there better than expected yesterday on the Mid Coast and even today with generally clean 2ft+ surf all day yesterday, 1-2ft on the magnets today.
The South Coast was also really fun with surf around 3ft+ and variable winds all day, still 3ft this morning and with clean, glassy conditions.
This week and weekend (Jul 23 - 26)
With the swell hanging in a bit better across both coasts yesterday and today, there's no expectation for tomorrow to be bigger than forecast as the swells will continue to fade.
We'll then be relying on very inconsistent long-range W/SW groundswell energy for tomorrow and Friday.
Size wise Middleton looks to only offer infrequent 2ft sets tomorrow and Friday, with tiny infrequent 1ft sets on the Mid Coast.
Conditions will remain favourable for the South Coast and especially the magnets with a light to moderate N/NE breeze tomorrow morning, swinging E/NE into the afternoon and then all day offshore Friday, fresh from the N/NE but variable into the afternoon.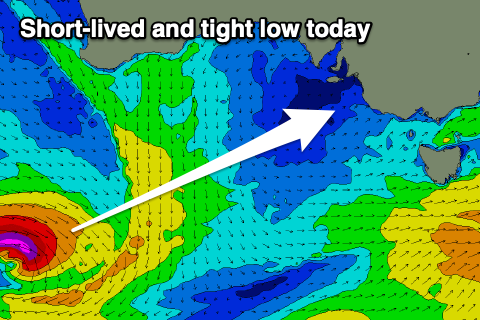 Into Saturday morning a small and flukey pulse of SW groundswell is due, generated by a small and tight low that's formed south-southwest of WA today. A very slim fetch of W/SW gales are being generate and this should keep Middleton around 2ft, easing into the afternoon, with the Mid Coast seeing some flukey W/SW swell from a low moving in from the west.
This low now looks to initially generate a W/SW fetch too far north of even the Mid's swell window, but while moving in from the west, and through the Bight, a better fetch of strong SW winds are expected Friday. This may see the Mid kicking to 1-1.5ft into the afternoon, fading Sunday.
Conditions look to remain favourable for the South Coast magnets on Saturday with a light N/NE-NE offshore and weak SE sea breezes, N/NW tending W/NW on Sunday with an approaching front.
Next week onwards (Jul 27 onwards)
As we move into next week we'll see a strong node of the Long Wave Trough that's situated across Western Australia moving in slowly from the west.
This will bring a progression of strong frontal systems projecting up and towards WA closer to us, but initially they'll be on a downward, south-east projection which is unfavourable for swell production.
In saying this currently in the Indian Ocean a broad and significant frontal progression will generate some inconsistent new W/SW groundswell foe early next week. Size wise this doesn't look to top 3ft off Middleton and 1-1.5ft on the Mid Coast Monday afternoon through Tuesday.
A better source of swell for the Mid later Monday and more so Tuesday will be one of these south-east tracking systems, firing off a fetch of W/SW gales south-west of WA on Saturday and early Sunday.
A better pulse to 2ft is due and winds look offshore out of the NE though freshening from the N/NE through the day. More on these tricky swells Friday though.