Monday, 20 April 2020
Quality west swells for the period
South Australian Forecast by Craig Brokensha (issued Monday 20th April)
Best Days: Tuesday, Wednesday, Thursday, Friday PM Mid Coast, Saturday, Sunday
Recap
Great waves all weekend across both coasts with a drop in swell across the Mid Coast Saturday but with cleaner conditions, good down South early ahead of weak sea breezes and with a large building mix of swells.
Yesterday was best down South with pumping waves from Goolwa to the more exposed breaks for experienced surfers, though it seemed like everyone had the same idea.
Today the swell has faded leaving small waves on the South Coast with unfavourable winds choppy and 1-2ft on the Mid Coast.
This week and weekend (Apr 21 - 26)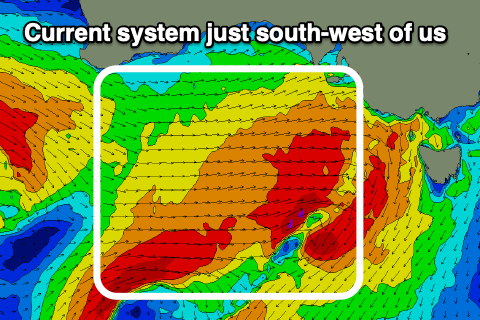 Today's westerly change is linked to a strong mid-latitude frontal system that developed over the weekend, clipping the state with it now dipping south-east and away from us.
A great fetch of gale to severe-gale W'ly winds were generated through our western swell window and we should see a moderate to large W/SW groundswell peaking tomorrow from this source, coming in at an easy 3ft on the Mid Coast tomorrow, 4ft off Middleton.
A secondary mid-latitude low moving in and under WA today will drop slightly east-southeast and generating a late fetch of W/SW gales in our south-western swell window tomorrow.
This should produce a reinforcing W/SW-SW swell for Wednesday afternoon, with the Mid Coast persisting at 2-3ft all day, easing from 2ft to possibly 3ft on Thursday. The South Coast looks to be back to 3-4ft Wednesday morning across Middleton, kicking maybe a little more towards 4ft into the afternoon, down from 3-4ft Thursday.
Winds look great for the South Coast over the coming days, and a bit too north but workable for the Mid tomorrow, N/NE early and tending fresh N/NW-NW into the afternoon. The South Coast should see N/NW winds, freshening and tending more NW.
Wednesday looks better across the Mid with a variable breeze, light W/NW down South ahead of afternoon sea breezes, with Thursday seeing N/NE tending N/NW winds through the day.
A low point in swell is expected on Friday morning with W/NW breezes, but a new W/SW groundswell is due into the afternoon, peaking Saturday followed by a larger swell later in the weekend and more so Monday.
Later Friday's swell will be produced by a slow moving, distant and persistent fetch of W'ly gales moving through our western swell window, firing up west-southwest of WA this evening.
The progression will weaken when pushing under the country, but a good W/SW groundswell should kick the Mid Coast back to 2ft later in the day, 3ft+ down South ahead of a peak Saturday to 2ft to occasionally 3ft on the Mid and 3-4ft off Middleton.
Following this, a broader and stronger polar low firing up behind the initial front will generate a stronger long-period W/SW groundswell for Sunday and Monday, mixed in with some closer-range SW energy as a broad front then spawns off the low and pushes east towards us on the weekend.
Size wise 2ft waves should continue on the Mid, 4-5ft down South, but we'll review this on Wednesday.
Locally winds look great with morning offshores and afternoon sea breezes Saturday and Sunday, possibly less favourable Monday, but check back here on Wednesday as there's plenty to discuss.