Friday, 20 September 2019
Good run of conditions for the South Coast
South Australian Forecast by Craig Brokensha (issued Friday 20th September)
Best Days: Keen surfers Mid Coast tomorrow afternoon and early Sunday, South Coast each morning (besides early tomorrow) and Sunday all day
Recap
Yesterday's S/SW groundswell didn't quite reach the size I was expecting across the South Coast with inconsistent but solid surf between 3-5ft across the Middleton to Goolwa stretch when the sets came, improving and straightening up through the day ahead of a late glass off.
The swell has faded right back overnight leaving much smaller 1-2ft waves off Middleton with a W/NW breeze.
The Mid Coast has been tiny for the last two days.
Today's Forecaster Notes are brought to you by Rip Curl
This weekend and week (Sep 21 - 27)
Tomorrow morning is likely to start out tiny as we reach a low point in swells ahead of our new W/SW groundswell from mid-morning.
This swell has been generated by a strong polar front pushing up and across WA, weakening while passing under its south coast.
There's been no change to the expected size of the swell, with the Mid Coast expected to build to 2-3ft through the afternoon, 3-4ft later in the day across the Middleton stretch. Then easing from the 2ft on the Mid Coast and 3ft off Middleton respectively Sunday.
Winds tomorrow morning won't be great for the Mid but workable, fresh W'ly early, moderate W/SW into the afternoon and W/NW tending W/SW down on the South Coast.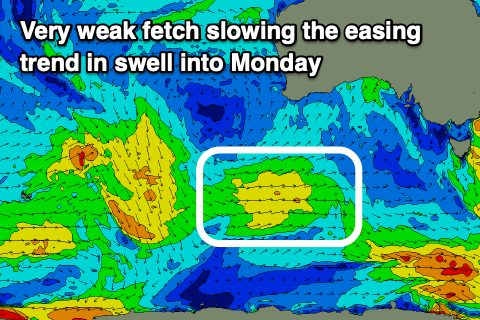 Sunday looks better for the South Coast with a N/NW offshore, possibly early light N'ly on the Mid Coast, fresher NW tending W/NW into the afternoon with an approaching front. This front isn't expected to generate an real additional size to the South Coast (easing from 2-3ft off Middleton Monday) but will keep the Mid Coast around a weak 1-2ft.
Winds unfortunately look to linger onshore across the Mid Coast from the W/SW-SW, cleaner on the South Coast in the morning and W/NW before shifting SW.
From here it's a slow downwards trend across both coasts into the middle to end of the week with no significant swells at all due next week.
A weak mid-period SW swell from a weak fetch of W/SW winds moving in from south-west and south of WA is due Monday afternoon but only to 2ft off Middleton, easing from 2ft Tuesday morning, tiny Wednesday. The Mid Coast will become tiny Tuesday.
Morning NW winds are expected on the South Coast, onshore into the afternoons and generally variable across the Mid Coast.
Longer term a stronger polar low is forecast to form by both GFS and ECMWF south-west of WA early next week, generating a moderate sized long-period SW groundswell for next weekend, but more on this Monday. Have a great weekend!