Wednesday, 11 September 2019
Continuation of strong, long-period swells
South Australian Forecast by Craig Brokensha (issued Wednesday 11th September)
Best Days: Early South Coast tomorrow, South Coast Friday morning, South Coast Saturday morning, both coasts Sunday
Recap
The long-range W/SW groundswell provided good sized surf from the get go yesterday morning, 1-2ft all day on the Mid Coast with generally light winds, best on the South Coast in the morning with clean inconsistent 3-4ft waves off Middleton.
Today our more consistent and slightly stronger SW groundswell has filled in with clean 3-4ft waves off Middleton, looking much better now with a moderate offshore wind, but too south in direction for the Mid Coast and to 1-1.5ft.
Just a heads up for those around Middleton Bay and along the South Coast, there have been multiple stolen cars and cars broken into over the past fortnight. So be vigliant in regards to where you hide your keys and be aware of who's around.
Today's Forecaster Notes are brought to you by Rip Curl
This week and weekend (Sep 12 - 15)
Today's pulse of long-period SW groundswell is expected to ease off later this afternoon, but our secondary pulse of long-period SW groundswell is looking a little better now. As talked about on Monday, the low linked to it tracked east-southeast through our swell window, but was a little stronger than expected with a fetch of storm-force W/NW winds generated.
This on top of the active sea state generated by the initial low should produce a good and similar sized pulse of SW groundswell for tomorrow morning, keeping 4ft waves hitting the South Coast off Middleton, though still tiny for the Mid and 1-1.5ft on the favourable parts of the tide.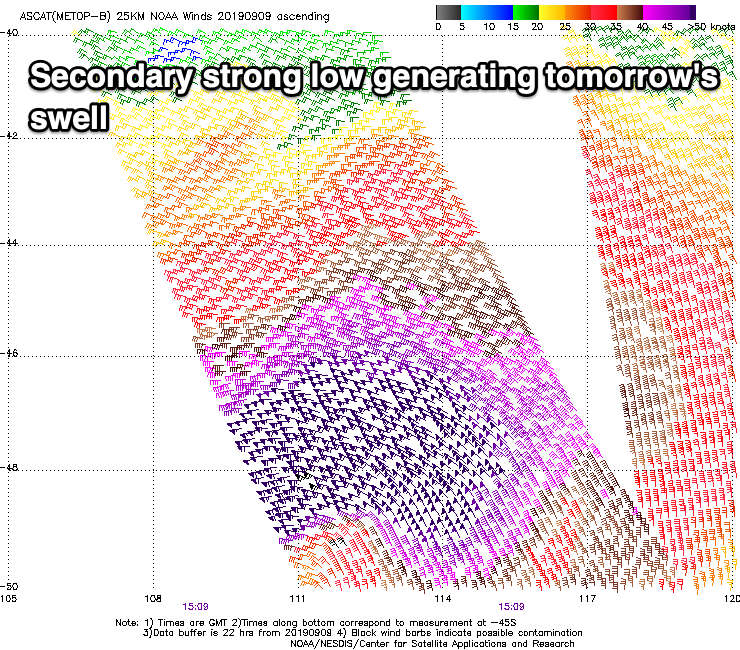 The window of clean conditions will be small tomorrow with a NW tending W/NW breeze early ahead of a SW change mid-morning.
Friday looks better with a light NW tending W/NW offshore wind and mix of easing SW groundswell and new swell, produced by a front moving in under the state today.
Middleton should still be 3-4ft, easing through the day, but tiny on the Mid Coast. Sea breezes are due from early afternoon so surf the morning.
Saturday looks fun with the swell easing a little further from Friday under a morning N/NE breeze, SE into the afternoon.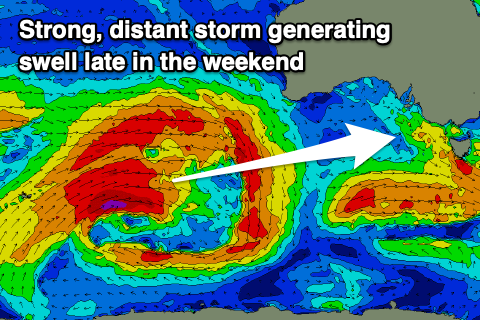 From Sunday we'll see strong swells filling in from the W/SW-SW as a flurry of significant polar storms develop in our swell window. Whether this is linked to the Sudden Stratospheric Warming event is unclear, but the strength of each storm is more winteresque rather than spring.
Firstly, an inconsistent W/SW groundswell is due Sunday, produced by a vigorous polar frontal progression that's currently in the southern Indian Ocean.
This progression will weaken south-west of WA tomorrow, with the remnants dipping south-east under the country and re-strengthening and stalling in our southern swell window on Saturday and Sunday.
We can expect an inconsistent and good W/SW groundswell for the Mid Coast Sunday, building to 2ft+, with Middleton building more through the afternoon to 3-4ft.
We'll then see some larger S/SW groundswell from the low stalling to the south of us moving in Monday and Tuesday. Size wise we're looking at 4-5ft+ waves off the South Coast, but we'll have to confirm this Friday.
Winds Sunday look favourable and NE-N on the Mid Coast ahead of weak sea breezes, and N/NW on the South Coast. The models diverge regarding the winds into early next week so we'll have to look at this again Friday.