Monday, 19 August 2019
Windy and solid week for the South Coast
South Australian Forecast by Craig Brokensha (issued Monday 19th August)
Best Days: Protected spots South Coast tomorrow and Thursday morning, keen surfers Mid Coast Friday but more so the South Coast
Recap
Good waves again on the South Coast Saturday with the magnets seeing the best of it, tiny on the Mid Coast.
A strong cold front moving through yesterday brought strengthening onshore winds, rain and hail and a building stormy windswell on the Mid Coast, tiny through the morning on the South Coast, building later.
Today a large mix of long-period SW groundswell and W/SW swell are breaking keeping the Mid Coast up around 2-3ft with a bit less wind, onshore and 4-6ft on the South Coast.
Today's Forecaster Notes are brought to you by Rip Curl
This week and weekend (Aug 20 - 25)
Today's mix of swells will ease off through tomorrow as winds shift back to the W/NW-W, keeping protected locations clean all day on the South Coast.
Middleton should drop back from 4-5ft on the sets, smaller around Chiton, with 2ft waves on the Mid Coast.
A strengthening frontal system moving in from the south-east Indian Ocean will project a fetch of W/NW tending W/SW gales through our south-western swell window, producing a good reinforcing SW groundswell for Wednesday.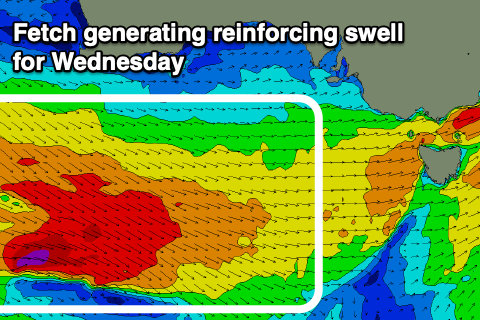 The models are still incorrectly combining this new swell and a distant long-period W/SW groundswell, over-forecasting the size and we're likely to see Middleton persisting around the 4ft range (if not for the odd sneaky bigger cleanup) and 2ft on the sets across the Mid Coast on the favourable parts of the tide.
Winds won't be as favourable and onshore from the W/SW tending SW with the passing front, better Thursday and likely W/NW early around Victor before shifting to the W/SW-SW mid-late morning as the swell starts to ease.
The easing trend will be slowed as distant long-period W/SW groundswell fills in Thursday and easing Friday, but not to what the models are showing with easing sets from 3ft+ likely off Middleton through the morning, 1-2ft on the Mid Coast.
Winds will swing back to the north on Friday (N/NE early on the Mid Coast) and holding out of the N/NW into the afternoon down South, creating a good full day of surfing.
The outlook for the weekend is still unclear as the leading weather forecast models ECMWF and GFS diverge on a surface trough (or front) moving in from the west. One thing is for sure, in that the surf will become smaller Saturday morning, but the timing of the trough/front is unclear, bringing poor onshore winds.
We may see a larger swell building into Sunday, but we'll have to have a closer look at this on Wednesday.