Wednesday, 7 August 2019
Windy and stormy swells on the way
South Australian Forecast by Craig Brokensha (issued Wednesday 7th August)
Best Days: Stormy spots later tomorrow and Friday morning, novelty spots Sunday and keen surfers Monday, South Coast Tuesday
Recap
Small clean waves yesterday on the South Coast, OK early across the magnets, a little average and still small this morning. The Mid Coast was tiny and windswelly yesterday, with a new acute W'ly swell not really showing, but today we've got great conditions and teasing 1ft sets.
Today's Forecaster Notes are brought to you by Rip Curl
This week and weekend (Aug 8 - 11)
Today is the calm before the storm. Currently a weak mid-latitude front is pushing in towards the Bight, but this will strengthen on its tail through this evening and tomorrow, pushing into and across us tomorrow afternoon.
The structure has changed a little and we're still expecting to see solid stormy surf on the Mid Coast but probably not to the size expected on Monday.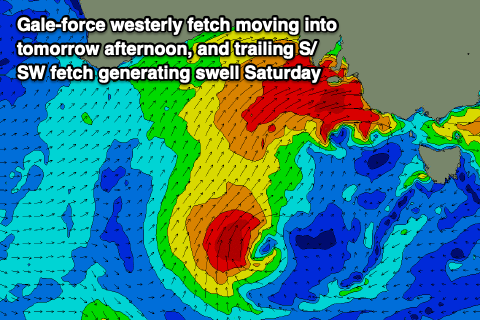 What we'll see is increasing W'ly tending W/NW winds, reaching near gale-force into the afternoon, whipping up a building stormy windswell to an easy 4ft or so into the afternoon.
The South Coast will start small to tiny and increase later in the day to 3ft or so off Middleton but be blown out with the strong to gale-force W/NW winds.
Come Friday the front will be further east, resulting in weaker but still fresh to strong W/SW winds across all locations and easing choppy surf from the 4ft range on the Mid Coast, with 4-5ft surf along the Middleton stretch. We may see winds tend W'ly for a period around Victor, but mostly conditions will be bumpy to choppy and wind affected.
A small embedded low is forecast to project up and into us through Friday, moving across us Saturday, bringing poor onshore SW winds along with a reinforcing S/SW swell to a similar 4-5ft across the Middleton stretch. The Mid Coast will drop back in size but still be around 3ft Saturday morning, smaller into the afternoon.
The wind and weather won't let up into Sunday, as we see a polar front projecting up and into the south-east corner of the state while strengthening Saturday afternoon and evening.
A fetch of strong to gale-force S'ly winds will be projected up through our southern swell window, generating a moderate to large S'ly swell for Sunday, coming in around 5-6ft across most open breaks to the swell from Chiton to Goolwa, but with fresh S/SW winds, limiting surfing options. The Mid Coast will be a bit cleaner though still bumpy and with smaller 1-2ft leftovers.
The wind and swell will start to settle down into next week as a strong high moves in from the west, though still moderate onshore Monday down South as the S'ly swell eases, great Tuesday with a N/NW offshore and mid-period S'ly swell to 3ft.
Longer term a mix of long-range W/SW groundswell and possible close-range swell from a mid-latitude front moving through the Bight is due later week, but we'll have a closer look at this Friday.