Friday, 14 September 2018
Large swells for the period, biggest down South next week
South Australian Forecast by Craig Brokensha (issued Friday 14th September)
Best Days: Sunday both coasts, early Monday Mid Coast and South Coast all day, protected spots South Coast Tuesday and Wednesday morning
Recap
Great waves across both coasts yesterday with Wednesday's swell dropping back to 2-3ft on the Mid Coast with cross-offshore winds backing right off late afternoon, while the South Coast saw great clean 3-4ft sets along the Middleton stretch, easing through the day.
This morning the swell is a bit smaller though still really clean and fun on the South Coast magnets with less consistent 2-3ft sets along the Middleton stretch and bumpy/choppy 2ft waves on the Mid Coast.
Later today we should see a new pulse of long-period SW groundswell filling in as winds hold from the NW.
Today's Forecaster Notes are brought to you by Rip Curl
This weekend and next week (Sep 15 – 21)
Later today's kick in new long-period SW groundswell was generated earlier this week by a slow moving and then stalling fetch of gale to near severe-gale-force W/SW winds south-southwest of WA, acting on top an active sea state.
This swell should peak tomorrow morning to a good 4-5ft across Middleton with 3ft waves on the Mid Coast, but an additional W/SW swell will fill in over the top of this, especially noticeable on the Mid Coast.
Currently a split fetch of polar SW gales and mid-latitude gale to severe-gales W/SW winds are projecting towards us through our western and south-western swell windows.
These separated fetches will combine into one front through tomorrow but come in much weaker, pushing across us tomorrow, bringing poor and strong W/SW tending SW winds.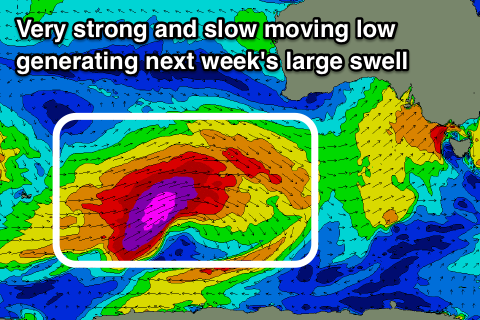 An additional stormy W/SW swell will be seen on the Mid Coast tomorrow with the surf likely to come in at 3-4ft, while the South Coast probably won't see any larger surf above the existing SW groundswell. The models are incorrectly combining all these swells and over-forecasting the size due across the state.
Into Sunday the groundswell component of both the W/SW and SW energy should fill in, keeping Middleton up around 4-5ft, with the Mid Coast persisting at 3ft.
Winds will improve across both regions, with a light to moderate W'ly tending W/NW breeze on the Mid Coast creating workable conditions, while the South Coast should see W/NW winds most of the day, if not a little average and W-W/SW at dawn.
Monday will be excellent as the weekend's swells ease, dropping from the 3ft range off Middleton with a gusty N/NW tending NW and then W/NW breeze with an approaching front.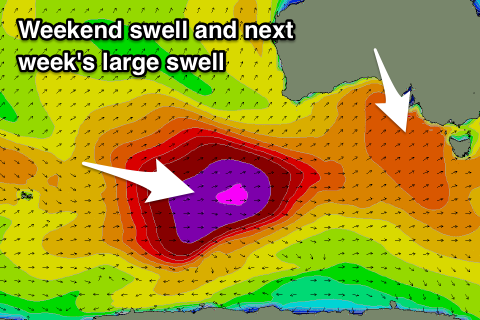 The Mid Coast will be best early with a N/NE breeze and sets in the 2ft range.
As pointed out on Wednesday, a strong long-period W/SW groundswell is due mid-week, generated by a very intense and slow moving storm that has just formed north of the Heard Island region.
We'll see this storm deepen this afternoon and projecting a persistent fetch of severe-gale to storm-force W/SW winds through our western swell window (pictured above) while projecting east through the weekend, weakening a touch while passing under the country Sunday afternoon and evening.
A large long-period W/SW groundswell will be generated, arriving through Tuesday and peaking into the afternoon.
We're looking at large 6ft+ waves developing off the South Coast/Middleton stretch with large sets across the deepwater reefs around Victor, while the Mid Coast should kick to an easy 3ft and winds look to be out of the W/NW, tending more W'ly through the day.
This will favour protected spots down South for experienced surfers, with the swell easing Wednesday under an early W/NW breeze ahead of a SW change as a weak front moves through.
Longer term we're looking at smaller swells, but more on this Monday. Have a great weekend!