Friday, 26 June 2015
Strong but inconsistent swell tomorrow, better and larger into Sunday afternoon
South Australian Forecast (issued Friday 26th June)
Best Days: Saturday, Sunday and Monday morning both coasts, Tuesday, Wednesday, Thursday South Coast
Recap
Better surf down South yesterday with a good amount of easing ground and windswell under W/NW winds, which persisted until around early afternoon. The Mid was a bumpy and average 1-2ft.
This morning a fun new SW groundswell is on the build down South with favourable offshore winds, while the Mid was tiny and glassy but tiny. The fore-runners of the first pulse of strong and powerful W/SW groundswell due later today and more so tomorrow are showing on the Cape du Couedic wave buoy, in the form of 23s Peak Periods, so it may be worth keeping an eye on the surfcams late in the day, as the swell filled in a little ahead of schedule in Western Australia yesterday.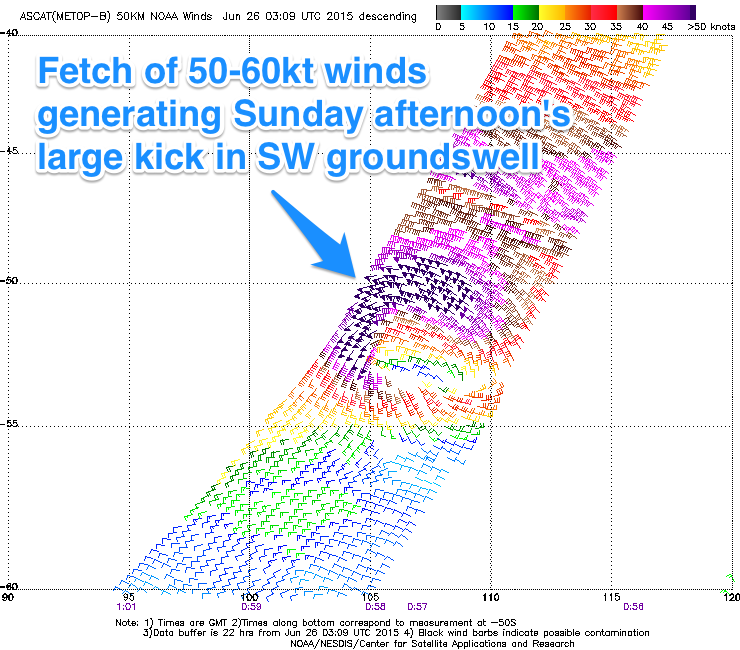 This weekend and next week (Jun 27 – Jul 3)
There's been no real change to the weekend's forecast, but it should be kept in mind, that the first few pulses of this swell tomorrow and Sunday morning will be extremely inconsistent and not overly large, so keep your expectations in check.
The swell impacted Western Australia very strongly yesterday afternoon, with large waves continuing into today.
We should see this pulse peaking tomorrow across our region with infrequent 3-5ft sets at Middleton and 6ft+ waves at Waits and Parsons while the Mid is due to come in around an infrequent 2ft.
Conditions are looking excellent down South with a light to moderate offshore N/NW tending variable breeze, while the Mid should see NE tending variable winds.
Come Sunday, the swell should be similar in size to Saturday but through the morning and more so into the afternoon, two stronger pulses of W/SW and SW groundswell are due to build strongly.
The W/SW groundswell will be inconsistent, generated by the final stages of the expansive polar frontal progression in the Indian Ocean over the last few days, while the SW groundswell is being generated by a polar low spawning off this progression, tracking in quickly from the west today and tomorrow.
Satellite observations have already picked up a tight fetch of 50-60kt W/SW winds south-southwest of WA (slightly stronger than model guidance) and we should see similar winds continuing through our swell window as the low pushes quickly east.
The quick nature of the low isn't ideal, but the strong core winds override this some-what, with a large and strong pulse of SW groundswell due Saturday afternoon, reaching 3ft on the sets across the Mid, with larger 5-6ft waves at Middleton and 8ft+ bombs at Waits and Parsons along with other offshore reefs.
Winds will be great for both coasts again Sunday with light local offshores and weak S/SE sea breezes down South.
Into Monday both swells are due to ease steadily, but still be solid early under great offshore tending variable winds. Tuesday looks great with morning offshores and moderate amounts of easing swell, although a slightly stronger onshore is due into the afternoon.
Into Wednesday morning a reinforcing SW groundswell is due across both coasts, generated by a broad pre-frontal fetch of W/NW gales swinging in from under WA Sunday and Monday. This should keep Middleton kicking in the 3-4ft range Wednesday morning with 5ft+ sets at Waits under W/NW winds.
Later in the week we may see a slightly stronger S/SW groundswell, but we'll have a closer look at this on Monday. Have a great weekend!