Monday, 22 June 2015
Improving week, better but inconsistent over the weekend
South Australian Forecast (issued Monday 22nd June)
Best Days: Thursday and Friday South Coast, Saturday, Sunday and Monday both coasts
Recap
Solid but peaky/lumpy waves for the South Coast Saturday with a new inconsistent S/SW groundswell and light NE-N/NE winds.
Sunday was the pick with a smaller straighter swell under fresher N/NE winds with plenty of options from Goolwa to Parsons.
Today the swell's bottoming out with Waits and Parsons the only real option under fresh to strong offshore winds.
This week and weekend (Jun 23 – 28)
The surf will be tiny to flat tomorrow morning and with a strengthening N/NW wind, it won't be worth a drive from Adelaide, even with a late building swell. The Mid Coast will see a small weak NW windswell but to no major size.
Into Wednesday a new inconsistent SW groundswell is due to fill in, generated over the weekend by a strong polar low.
This swell should build to an inconsistent 3-4ft+ across Middleton with 4-6ft sets at Waits and Parsons but along with poor and strong onshore SW winds. The Mid Coast will also see a junky SW or so of SW windswell but with no quality.
Thursday will be better on the backside of the swell down South as winds tend slowly back offshore from the W/NW, favouring protected spots.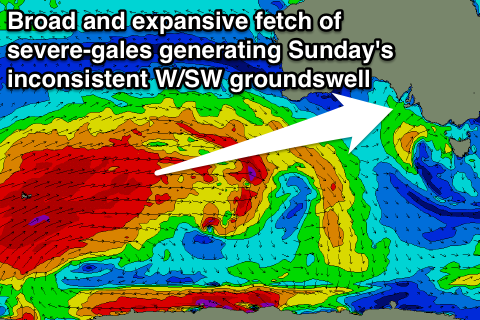 From Friday we'll see tricky and inconsistent levels of long-range W/SW groundswell emanating from one of the largest and broadest polar frontal progressions firing up in the Indian Ocean for some time.
Already a fetch of 50-60kt winds have been registered in our far far swell window just west of Heard Island, with this due to be over taken by a broader and more elongated fetch of severe-gale W/SW winds over the coming days.
The progression as a whole will slowly move east through the second half of the week, which is more favourable for us, with the frontal activity weakening but pushing under the Bight from Friday afternoon.
What will result is initially some very inconsistent long-period W/SW groundswell arriving late in the day Friday and peaking through Saturday ahead of a secondary slightly stronger and more consistent pulse through Sunday.
On Friday though there should also be some closer-range W/SW swell from patchy pre-frontal W/NW winds ahead of the stronger activity. This should see Middleton building to 3ft through the afternoon with 4-5ft sets at Waits and Parsons and 1-1.5ft waves on the Mid Coast under NW tending W/NW winds.
Saturday should then offer larger but really inconsistent 3-5ft sets at Middleton (more so into the afternoon), with 6ft surf at Waits and Parsons and very inconsistent 2ft sets on the Mid.
Sunday will likely see the most size with 4-5ft surf at Middleton, with the rare 6ft bomb likely and bigger 8ft sets at Waits and Parsons. The Mid Coast should see 2ft+ sets with the odd 3ft bomb likely.
Winds look great with generally local offshore tending variable breezes, opening up plenty of options for a surf.
Into next week the storm track will move more under the country with more consistent swell energy due, but we'll have a closer look at this on Wednesday.