Wednesday, 27 May 2015
Large wintery swells on the way
South Australian Forecast (issued Wednesday 27th May)
Best Days: Thursday through Sunday down South, Monday on the Mid, Tuesday down South
Recap
Small to tiny waves yesterday morning down South with a light offshore wind, increase a touch into the afternoon as conditions remained clean and glassy, providing fun surf for the last session. The Mid was glassy but also tiny.
A new long-range W/SW groundswell has filled in today providing infrequent 2-3ft sets across the Middleton stretch with bigger waves at Waits and Parsons with 1-1.5ft surf on the Mid and the odd bigger 2ft set, which has become more consistent into this afternoon.
This week and weekend (May 28 - 31)
From tomorrow we'll see the surf kick in size (more so the afternoon), climaxing with a large and powerful SW groundswell Friday morning.
This is being currently being generated by a vigorous frontal progression that's under WA, with it already having aimed a fetch of storm-force W/SW winds towards us Monday afternoon and evening. This system is still producing severe-gale SW winds, but will weaken slightly while passing under us through tomorrow.
Initially tomorrow a new W/SW groundswell should build through the day, increasing to an easy 4ft at Middleton through the mid-late afternoon with 5-6ft sets at Waits and Parsons, while the Mid should see 1-2ft waves, increasing later more to the 2ft range.
Winds will be great down South early with a fresh N/NW breeze but this is expected to swing W/NW through the morning ahead of a W/SW change early afternoon.
Come Friday the large long-period SW groundswell will peak, with 6ft sets across Middleton and 8ft+ waves at Waits and Parsons along with other deep water reefs. The Mid should see plenty of size to 2-3ft+.
Winds will however only favour protected locations down South with a fresh to strong and easing W/NW'ly.
A drop in size is due into Saturday as winds persist from the NW to W/NW down South, favouring protected breaks, while a new SW groundswell is due into Sunday morning, produced by a fetch of pre-frontal W/NW gales moving in under the Bight Friday.
This should keep Middleton kicking at 4-5ft with 6ft+ sets at Waits and Parsons (2ft on the Mid) ahead of a possible larger and late kick in new S/SW groundswell that's due to peak Monday. Firstly though winds will strengthen from the W/NW Sunday ahead of a SW change through the mid-late afternoon.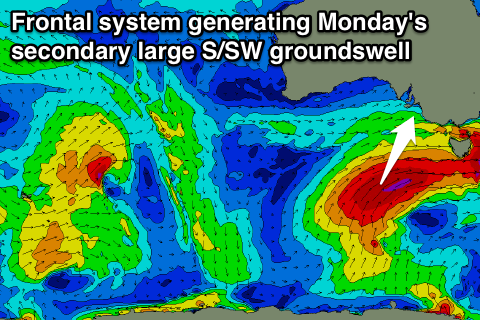 Next week onwards (Jun 1 onwards)
Monday's large and powerful S/SW groundswell will be produced by a final polar frontal system being projected up towards Victoria through Saturday and Sunday, aiming a fetch of severe-gale S/SW winds through our southern swell window.
This swell should come in at 6-8ft across most locations down South due to its direction with 1-2ft sets on the Mid, but conditions look poor with onshore S'ly winds in the wake of later Sunday's change, meaning the Mid will offer the cleanest waves.
Tuesday will be the day to head South again as the S/SW swell eases and winds swing offshore.
Longer term there's nothing significant on the cards until later in the week, but more on this Friday.