Plenty of swell but with generally average winds
South Australian Forecast (issued Friday 3rd April)
Best Days: Saturday morning down South, possibly Sunday morning with light winds, Tuesday morning on the Mid, Thursday and Friday mornings down South
Recap
Poor conditions across the South Coast yesterday with a building S/SE windswell and strong S/SE winds. The Mid Coast continued in the 1ft+ range with winds remaining favourable and from the SE-S/SE.
Today the Mid was back to a tiny 0.5ft, while the South Coast offered improving peaky 3-4ft waves out of the S/SE. This S/SE windswell should continue to ease through the day as winds swing back to the S/SE.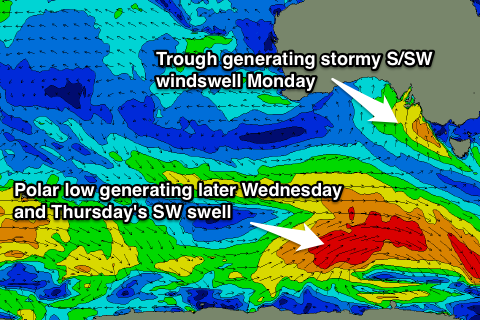 This weekend and next week (Apr 4 – 10)
We've got plenty of swell due over the coming period, but winds will be the main issue as touched on the last few updates.
Tomorrow looks fun down South with a building SW groundswell and light NE winds through the morning. The swell will only be small early but should reach 2-3ft at Middleton and 3-4ft at Waits by midday. Afternoon sea breezes are due though, so don't dawdle.
Come Sunday a better SW groundswell is expected to 3ft+ across Middleton and 4-5ft at Waits, but winds now look a little dicey. A light to moderate S/SW'ly is forecast but we may see a more variable breeze through the morning creating workable conditions. The Mid will be clean but tiny.
Into Monday a strong onshore S/SW change will bring with it a solid increase in local S/SW windswell.
The Mid should build to 1-2ft, while the South Coast is expected to jump to a stormy 4-5ft across most breaks through the afternoon.
The trough will push further east Tuesday resulting in winds easing but still remaining onshore and fresh from the S/SW.
A new S/SW groundswell should be in the water as well to 3-4ft at Middleton and 4-5ft at Waits, while the Mid should see 1-1.5ft sets and cleaner conditions with an early S/SE'ly.
Another moderate sized pulse of S/SW groundswell is due through Wednesday afternoon and Thursday morning, generated by a pre-frontal fetch of W/NW gales and subsequent fetch of better SW gales through our southern swell window early in the week.
A kick to 3-5ft across most exposed breaks is due with 6ft sets at Waits and Parsons late Wednesday, easing from a similar size Thursday morning. The Mid isn't due to see any major size with 1ft sets.
Conditions look to remain less than ideal with a lighter S/SW breeze Wednesday morning that may if we're lucky tend W'ly early, while Thursday looks the day to surf with a morning NE'ly.
Into the end of the week we may see one final pulse of S/SW groundswell building through Friday, but we'll have a closer look at this on Monday. Have a happy and safe Easter!