Wednesday, 11 March 2015
Fun Mid waves Thu/Fri, great down South Saturday morning
South Australian Forecast (issued Wednesday 11th March)
Best Days: Thursday and Friday morning on the Mid, Friday and Saturday mornings down South, Sunday for keen surfers down South, Monday morning exposed beaches down South, Wednesday morning
Recap
A good pulse of SW groundswell provided great 2ft+ waves across the Mid Coast yesterday, a touch above the expected 1-2ft surf. The South Coast also saw good conditions with a solid kick in swell and light E/NE tending better N/NE winds before sea breezes kicked in.
The swell has dropped back a notch today to 1-2ft on the Mid while Middleton is still in the 4ft range with bigger sets outs at Waits under light morning offshores. A weak onshore has since developed but conditions are still workable across both coasts.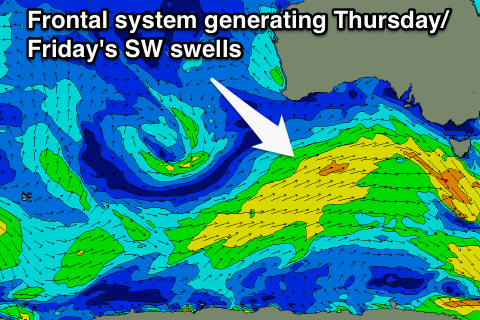 This week and weekend (Mar 12 - 15)
We've got two more good pulses of SW groundswell due through the end of this week, the largest pushing in Friday, generated by continued strong frontal activity under the country through this week and into today.
The Mid should continue in the 1-2ft range tomorrow and 2ft Friday, while the South Coast should hold around 3-4ft at Middleton with 5-6ft sets at Waits from tomorrow afternoon and all through Friday.
Winds will be a problem though and poor down South with a fresh S'ly, while the Mid will be better with a morning S/SE'ly.
Friday looks great on the Mid with fresh E/SE offshores, while the South Coast will improve but still be peaky and a bit unorganised with an E/NE breeze.
Into the weekend the swell should slowly drop away but conditions will be great for the South Coast Saturday morning with an offshore N'ly wind, while the afternoon will be bumpy with sea breezes. The Mid should ease from 1-1.5ft, while the South Coast is expected to drop from 3-4ft along the Middleton stretch and 5ft at Waits and Parsons on the sets.
A shallow overnight change is likely to linger down South into Sunday from the SE but without much strength. It will do enough to create less than desirable conditions though. The Mid will be clean but tiny and great for beginners at South Port and Moana.
Next week onwards (Mar 16 onwards)
A small S/SW pulse due for Monday isn't expected any more with small surf due under light NE winds through the morning on the South Coast.
Into Tuesday and more so Wednesday some better S/SW swell is expected, generated by a couple of weak but back to back polar fronts over the weekend.
No major size is due, with a peak Wednesday to 2-3ft at Middleton and 3-4ft at Waits due, with tiny 0.5ft sets on the Mid. Winds are looking favourable at this early stage but we'll review this Friday.