OK Saturday morning down South, Mid on Monday
South Australian Forecast (issued Friday 13th February)
Best Days: Saturday morning, Monday on the Mid, Thursday and Friday mornings down South
Recap
The Mid Coast failed to provide any real decent size at all yesterday, even with favourable readings off Kangaroo Island on the Cape du Couedic Wave Buoy. An inconsistent and clean 1ft wave was seen most of the day, with the rare 1.5ft bomb, under the forecast 2ft sets.
The South Coast was poor with the SE winds but offered a lot more size.
Today the Mid was still around a tiny 1ft and clean, while the South Coast offered good fun peaky 2-3ft waves under an offshore which has persisted into the middle of the day.
This weekend (Feb 14 – 15)
Saturday morning will still be the pick of the weekend with a dropping swell from 2ft at Middleton and 3ft at Waits and Parsons under a light variable wind which should tend NE through the morning. Afternoon sea breezes are due so try and surf before lunch.
Sunday's onshore change looks to be delayed a little with it likely arriving in the hour or two after dawn. It still won't be worth the drive from Adelaide though with a small average swell and early N/NW'ly. The change should hit around 7am and from then on a strengthening SW'ly is due.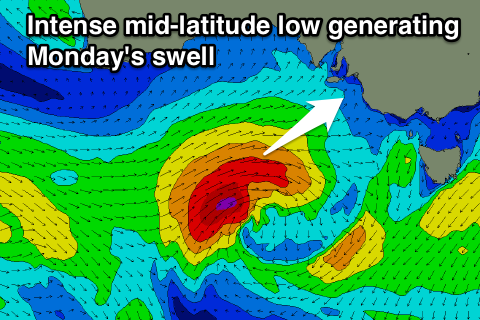 Next week onwards (Feb 16 onwards)
Monday's W/SW swell is still on track, but a secondary stronger SW groundswell filling in through the day for the South Coast has been upgraded.
A mid-latitude low that's currently south-west of WA is projecting a fetch of SW gales through the Mid's swell window and should continue to push east towards the Bight tomorrow.
This should produce a good W/SW groundswell for the Mid on Monday, building to 2ft through the day.
A secondary intensification of the system Sunday to our south-west will see a fetch of severe-gale SW winds generated in our south-western swell window.
This will produce a stronger pulse of SW groundswell for the South Coast and Mid Monday afternoon, building to 3-5ft at Middleton and an easy 6ft at Waits and Parsons. The Mid should see 2ft of swell from this development, with plenty of waves on offer into the afternoon.
Winds will be poor for the South Coast in the wake of Sunday morning's change with a S/SW'ly, but the Mid will be much cleaner with a morning S/SE'ly ahead of fresh S/SW sea breezes.
The swell should drop through Tuesday and further Wednesday but poor SE winds are due to persist on the South Coast, while the Mid will be clean but easing from 1-1.5ft Tuesday, becoming tiny Wednesday.
A new long-range and inconsistent SW groundswell is due to arrive Thursday and peak through the afternoon across the state. The source of this swell will be a strong and slow moving polar low forming in the Heard Island region and weakening once getting to a line south of WA.
With this swell winds are set to improve, swinging E/NE Thursday and then N'ly Friday morning but we'll confirm this Monday. Have a great weekend!