Wednesday, 11 February 2015
Fun Mid waves Thursday and Monday, South Coast in between
South Australian Forecast (issued Wednesday 11th February)
Best Days: Thursday Mid Coast, Friday morning and Saturday morning down South, Monday Mid Coast, Tuesday morning down South
Recap
Light variable winds allowed for improving conditions yesterday morning across the South Coast with a new pulse of S/SW groundswell. Conditions remained workable until about lunch time, when a stronger onshore wind kicked in.
Today the swell was a touch smaller but conditions favourable again during the morning with a light variable breeze up until late morning. The Mid Coast was a touch bigger and in the 0.5-1ft range ideal for beginners with a morning offshore.
This week (Feb 12 – 13)
A fun small swell due for the Mid Coast tomorrow is still on track with inconsistent but good 2ft sets due through the day on the favourable parts of the tide. The South Coast will also see a good kick in size but strong SE winds will create poor conditions while keeping the Mid clean for most of the day.
Friday morning will be better down the South Coast but still uneven, wobbly and peaky with a light E/NE breeze through the morning and easing swell from 2-3ft at Middleton and 3-4ft at Waits and Parsons with a S/SE windswell to 3ft also in the mix. The Mid Coast will be clean but tiny and easing from 1ft+.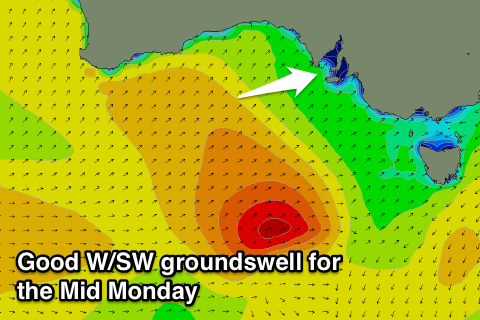 This weekend onwards (Feb 14 onwards)
Saturday morning will be the only decent window for a clean wave over the weekend with a smaller swell easing from 2ft at Middleton and 2ft to occasionally 3ft at Waits and Parsons. A hot offshore NE breeze is expected through the morning ahead of afternoon sea breezes.
The Mid Coast is expected to really bottom out to 0.5ft.
Come Sunday a strong onshore change is due around dawn writing off the surf across both coasts for the day.
The cold front responsible for Sunday's change will be linked to a good swell producing system, forming south-west of WA tomorrow. A mid-latitude low should produce a fetch of SW gales through our western swell window through Friday and Saturday before pushing under us Sunday.
A moderate sized W/SW tending SW groundswell is due Monday coming in at 2ft on the Mid while Middleton should build to 3-4ft during the day with 5ft sets at Waits and Parsons.
The Mid will be the pick through with offshore SE tending S/SE winds.
Conditions will improve Tuesday across the South Coast with a morning NE breeze and easing swell.
Longer term some new SW groundswell on Thursday is expected to be spoilt by S/SE winds, but we'll look at this in greater detail on Friday.