Monday, 19 January 2015
Great tomorrow morning, larger swells for the weekend
South Australian Forecast (issued Monday 19th January)
Best Days: Tuesday morning down South, Thursday morning for keen surfers down South, Saturday both coasts, early Sunday South Coast
Recap
The South Coast saw a strong and moderate-large swell fill in on Saturday but unfortunately conditions were poor with a fresh SW change pushing through around dawn. Sunday was no better as winds lingered from the S'th at lesser strength creating bumpy average waves as the swell dropped back a notch. The Mid Coast was tiny and onshore Saturday, pulsing a touch into the afternoon before easing back through Sunday under a light morning SE breeze.
Today the swell has coming in more from the S/SW down South and improved through the morning as winds tended fresh offshore from the NE creating great waves across the Middleton stretch and out at Waits and Parsons for experienced surfers. The Mid Coast was also clean but tiny.
This week (Jan 20 - 23)
Tomorrow morning is still looking good down the South Coast as the weekend's swell continues to ease under morning offshore N/NE winds. Middleton should drop back from the 2-3ft range with waves in the 4ft range at Waits and Parsons.
Try and get out before lunch though as a trough is forecast to move in from the west bringing an onshore change during the early afternoon.
Wednesday is still looking to be a lay day as winds remain onshore from the S/SW in the wake of Tuesday's change as the swell bottoms out.
A small uptick in size is due on Thursday but the source of this swell is a short-lived polar low, with inconsistent 2ft sets due at Middleton with 3ft waves at Waits under a light variable breeze that will likely tend offshore from the NE during the morning.
A weak change is due into Friday though creating poor conditions with a slow increase in new SW swell (discussed below).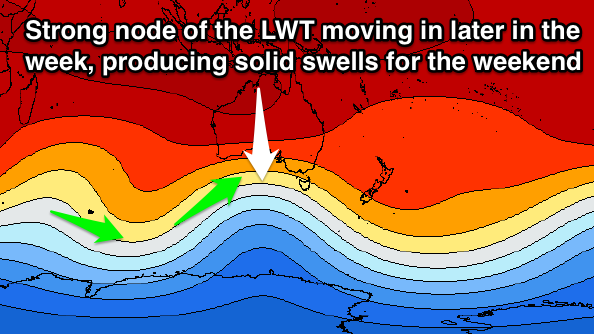 This weekend onwards (Jan 24 onwards)
From Friday afternoon we're expected to see some healthy SW groundswell impacting the state again, with a series of good pulses due until early next week.
This will be linked to another strong node (peak) of the Long Wave Trough moving in from the west during the second half of this week before stalling while weakening across the south-east of the country.
A series of strong cold fronts should be directed through our south-western swell window during the second half of the week, with the largest swell due Saturday at this stage, coming in at 3-5ft at Middleton with 6ft sets at Waits and Parsons. The Mid Coast should see fun 2ft+ waves through the day.
Winds at this early stage look to be favourable and offshore from the N/NW, but we'll review all of this again on Wednesday.