Wednesday, 24 December 2014
Limited windows of favourable winds, lots of swell
South Australian Forecast (issued Wednesday 24th December)
Best Days: Tomorrow morning down South, Friday morning on the Mid, Saturday for beginners on the Mid, Monday down South
Recap
Tiny waves across the Mid Coast yesterday and onshore winds down South while today a new SW swell has started to show across the Mid with 0.5-1ft sets but a further kick to 1.5ft+ is due this afternoon/evening. Unfortunately winds will go onshore from the S/SW creating average conditions.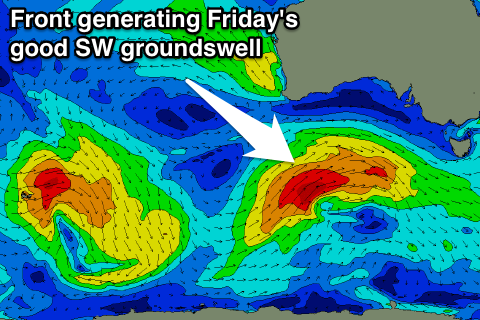 This week and weekend (Dec 25 - 28)
This afternoon's increase in SW groundswell should peak early tomorrow morning but before it gets a chance to ease a new SW swell should arrive towards dark.
This swell which is due to peak Friday morning will be larger and stronger, generated by a vigorous front which is currently south of the Bight, aiming a fetch of W/SW gales towards us.
Size wise the South Coast should hold around 3-4ft at Middleton and 4-5ft+ at Waits tomorrow before offering bigger 3-4ft+ and 4-6ft waves respectively through Friday.
The Mid Coast should hold around 1.5ft tomorrow with Friday providing better 1-2ft sets.
Winds tomorrow will only be favourable around Victor and from the West before a strong SW change moves through during the early afternoon. The Mid will be poor and onshore all day.
Friday will be the day to surf across the Mid with fresh S/SE winds during the morning, while the South Coast will be a write-off.
Friday's swell should drop steadily through Saturday as conditions remain poor with lighter onshore winds from the SE. The Mid should be clean but tiny and easing from 1-1.5ft.
From Sunday we'll continue to see solid pulses of S/SW groundswell impacting the state, the largest through the afternoon Sunday followed by a secondary pulse Tuesday/Wednesday.
Sunday's increase will be generated a significant polar frontal system firing up from just east of Heard Island this afternoon, projecting a fetch of W/SW gales up towards Vicco coming days.
A moderate to large S/SW groundswell should result, building steadily through Sunday and peaking into the evening to 4-5ft across most locations with 6ft+ sets at Waits and Parsons. The Mid is only due to see 1-1.5ft sets with the southerly swell direction. Winds will continue to be average down South though with a SE tending S'ly breeze.
Next Monday onwards (Dec 29 onwards)
Sunday's swell will ease off through Monday and conditions should be good for protected locations down South with W/NW tending fresh W/SW winds, with Middleton Bay and the Chiton area being the pick.
The secondary pulse of swell for Tuesday afternoon and Wednesday morning will be from a similar polar front projecting towards the south-east of the country but with a touch less strength. A touch less size is due and winds look to be onshore from the S/SW Tuesday and then more favourable from the East Wednesday but we'll review this Friday.