Great Saturday down South, fun late Sunday on the Mid
South Australian Forecast (issued Friday 3rd October)
Best Days: Saturday before the change, Sunday afternoon on the Mid, early Monday down South, Wednesday morning down South
Recap
The Mid offered fun clean 1-2ft waves yesterday morning while the South Coast was fun as well with solid amounts of swell and light variable winds from the S'th.
Today the swell has backed off to 3-4ft or so across the Middleton stretch down South with offshore N/NE winds, but a new S/SW groundswell should pulse back to 3-5ft through the day. The Mid Coast was a tiny 1-1.5ft and ideal for beginners.
This weekend (Oct 4 - 5)
Tomorrow is still looking great down South, but an onshore change is coming in a little earlier than ideal.
Today's S/SW groundswell will ease away from 3-4ft along the Middleton stretch with 3-5ft sets at Waits under fresh N/NW winds, with a late afternoon SW change. There's chance this may not even hit till dark, but you'll have to wait and see.
The Mid Coast will be tiny and terrible so aim for a morning surf down South.
Come Sunday winds will be poor and onshore from the S/SE tending SE but easing across the South Coast, while the Mid should be clean. A new SW groundswell is due through the afternoon though, generated by an unfavourably tracking low south-east through the Southern Ocean.
This should offer 1-2ft sets across the Mid with the incoming tide during the afternoon although local sea breezes will create bumpy conditions. The evening should be better with a late swing to S/SE winds.
Monday onwards (Oct 6 onwards)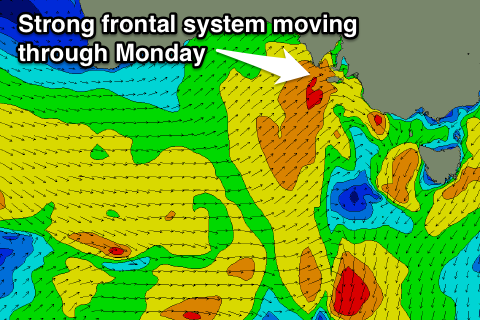 Sunday afternoon's increase in SW swell will drop through Monday, and there'll only be a small window of clean conditions down South before winds become too strong with a fresh to strong N/NW tending W/NW breeze ahead of a gale-force W'ly change.
This change will whip up a weak 1-2ft of windswell on the Mid that should persist into Tuesday with poor strong but easing SW winds.
The South Coast should see a spike in close-range SW swell for Tuesday with a possible early period of W'ly winds, but it won't be worth the drive from Adelaide.
A better SW groundswell pulse is due Wednesday from trailing frontal activity on the back of the system moving through Monday afternoon and winds should be better down South with a morning W/NW'ly as the swell builds.
Thursday is probably the pick with an easing swell from 3ft at Middleton and 3-5ft at Waits under offshore N/NW winds ahead of an afternoon SW'ly.
Longer term some better and larger groundswell energy is on the cards for next weekend and the following week as a strong node of the Long Wave Trough moves in from the west late next week, but we'll look at this more on Monday. Have a great weekend!