Monday, 18 August 2014
Improving South Coast, pumping Thursday/Friday
South Australian Forecast (issued Monday 18th July)
Best Days: Wednesday morning down South, Thursday morning, Friday, later Saturday on the Mid, Sunday both coasts
Recap
The weekend was a write-off with fresh to strong SE winds across the South Coast Saturday that backed off a touch on Sunday with the arrival of a new swell. The Mid Coast was tiny and clean all weekend.
Today the average run of conditions has continued but a solid new S/SW groundswell is due later today, discussed in more detail below.
This week (Aug 19 - 23)
Later today's and tomorrow's solid pulse of S/SW groundswell has been generated by a flurry of strong polar frontal activity and another similar pulse is due Wednesday but not to the same size.
Middleton should ease slowly from 3-4ft+ with 5ft+ sets at Waits is expected, with tiny 0.5ft waves on the Mid as winds improve down South, swinging light E'ly before tending back to the SE into the afternoon.
Wednesday is looking cleaner with light morning NE'ly winds expected as the swell steadies around 3ft+ at Middleton and 4ft around Waits.
Thursday and Friday will be the pick of the week as a long-range and inconsistent SW groundswell fills in, mixed in with a smaller medium-range SW groundswell.
These swells have been generated by a strong polar frontal progression pushing east from the Heard Island region over the last few days.
Inconsistent but strong 3-4ft+ sets are due across Middleton again with 4-6ft bombs at Waits under N/NE tending E/NE winds, creating excellent conditions through the morning. Friday will be great all day as the swell drops away under fresh N/NE tending lighter N/NW winds.
This weekend onwards (Aug 24 onwards)
The swell will continue to fade away through Saturday but we may see a weakening trough moving through the area, creating poor conditions across the South Coast. A late increase in strong W/SW groundswell is also due across the Mid ahead of a peak Sunday.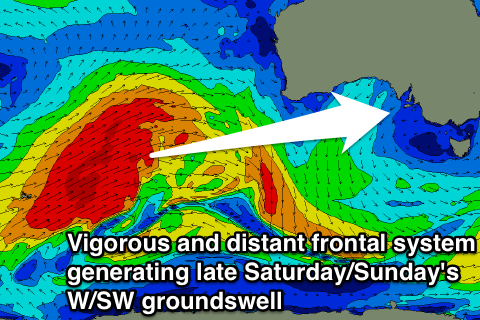 This very inconsistent long-range W/SW groundswell will be generated by a very strong and powerful polar frontal progression firing up in the South-western Indian Ocean and pushing east while projecting towards WA over the coming days.
A very large swell for WA and Indo with a fair bit of size loss due to swell decay as it travels the extra thousands of kilometres towards us.
Still, we should see the Mid Coast building to 1-2ft late in the day Saturday with 2ft to nearly 3ft sets Sunday morning ahead of a dip into the afternoon.
The South Coast should see 3-5ft waves at Middleton with larger 6ft+ sets at Waits and Parsons under morning NE winds. This should open up plenty of options across both coasts with early next week looking excellent as swell as the swell drops under N'ly winds.