Fun weekend, large and windy from Wednesday
South Australian Forecast (issued Friday 25th July)
Best Days: Every day across the South Coast
Recap
The South Coast saw improving conditions yesterday morning with a small but fun swell as NE winds tending straighter offshore and persisted from the NW into the afternoon. The Mid Coast was tiny and choppy with the increasing onshore wind.
Today similar amounts of swell are breaking across both coasts and conditions are again good down South with a light W/NW wind but this is expected to swing onshore during the mid-late afternoon, so make the most of the current conditions!
This weekend (Jul 26 – 27)
Small and inconsistent levels of SW groundswell will continue through tomorrow with favourable winds all day across the South Coast coming in at 1-2ft at Middleton with 3ft sets at Waits and Parsons. Light to moderate NW winds should persist into the afternoon creating fun waves.
Sunday afternoon's long-range and inconsistent W/SW groundswell is still on track with a slow start across both coasts expected to give way to an increase to 2ft on the Mid through the afternoon and a very inconsistent 3ft+ at Middleton with 4-5ft sets at Waits. Winds will remain fresh and gusty from the N/NW all day, creating great conditions into the afternoon as the swell kicks down South, while creating poor conditions across the Mid.
Next Monday onwards (Jul 28 onwards)
Sunday's pulse of long-range and inconsistent W/SW groundswell is expected to hold well into Monday morning and to a similar size but a drop is due during the day on the South Coast. The Mid should provide 2ft sets most of the day as some reinforcing and acute W'ly swell fills in. NW tending W/NW winds will again favour the South Coast and create bumpy waves on the Mid.
Of much greater importance to is a series of large W/SW and SW groundswell pulses through next week owing to a strengthening node of the Long Wave Trough pushing east across the south of the country during the weekend and then over us mid-week.
This will initially steer a couple of vigorous mid-latitude fronts under WA and through the Bight through the weekend, with a medium sized pulse of W/SW groundswell due through Tuesday.
This should provide more 3ft waves on the Mid Coast with 3-4ft waves at Middleton and 5ft+ bombs at Waits and Parsons.
Into Wednesday and Thursday though things will really heat up as an initial broad and strong frontal system pushing through the Bight and then towards us Monday produces an initial strong W/SW groundswell for Wednesday morning as well as an active sea state for a much stronger and more favourably aligned polar front to move over.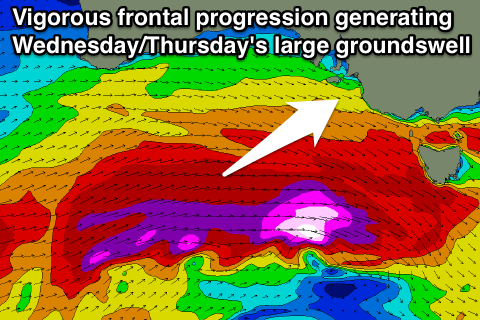 This polar front is forecast to project a fetch of severe-gale W/SW winds under the whole of Australia up towards Vicco (steered by the LWT), producing a large and powerful W/SW-SW groundswell for Wednesday afternoon and Thursday. Follow up frontal systems slamming into us Wednesday evening and Thursday will also continue to provide large SW swells for the South Coast well into the end of the week.
Size wise, the Mid should build to 3ft+ Wednesday afternoon and come in at 3-4ft Thursday, while the South Coast is expected to build to 6-8ft at Middleton with larger bombs at Waits into Wednesday afternoon before dropping back from a similar size Thursday.
There is still a little model divergence around the timing of the peak/size/arrival of this swell so you'll have to check back Monday for a much clearer idea on this.
Winds look best for the South Coast initially with fresh to strong W/NW breezes Wednesday and W/NW tending W/SW winds Thursday. Come Friday onshore S/SW winds are likely as a high starts to move in quickly from the west but this may see winds tending variable next Saturday creating cleaner conditions on the Mid as the swells back away. We'll have a much closer look at this on Monday though. Have a great weekend!