Small waves and variable winds with more action from Sunday afternoon
South Australian Forecast (issued Monday 21st July)
Best Days: Thursday - Sunday morning exposed spots down South, Monday onwards
Recap
The Mid Coast hasn't offered anything of significance while the South Coast has been great at selected spots with a good size swell for both Middleton and the more exposed Waits and Parsons under persistent offshore winds.
Today is the smallest it's been all week, and unfortunately it's going to be further down from here, with funky winds.
This week and weekend (Jul 24 – 27)
There's nothing of significance due into the end of the week with the South Coast expected to offer the only surfable options. Winds will become tricky as well as a weakening mid-latitude low moves across us.
With this we'll see winds spinning from the NE early tomorrow around to the W/NW into the afternoon, while Friday morning should see more variable winds tending SW.
Into the weekend, conditions will remain small, but the South Coast should offer fun waves as morning W/NW winds swing more NW into the afternoon due to an approaching front.
Waitpinga will offer the best waves for experienced surfers with inconsistent 2-3ft sets, while Middleton will be ideal for beginners and in the 1-2ft range.
Sunday is looking a lot better for a surf a new long-range W/SW groundswell fills in through the afternoon.
This long-range swell is being generated in our far western swell window in the Southern Indian Ocean through yesterday, today and tomorrow.
While this storm will be very strong, the extremely large distance between its source and our state will result in a lot of swell decay and huge loss in consistency.
Still, the Mid Coast should build to a very iconsistent 2ft through the afternoon, with 3ft+ sets at Middleton and 4-5ft waves at Waits towards evening. Conditions will be best down South with a fresh N/NW wind persisting all day.
Next Monday onwards (Jul 28 onwards)
Sunday afternoon's W/SW groundswell should hold well into Monday morning, but some better and more consistent pulses of W/SW groundswell are due to over power this long-range energy from Monday afternoon onwards
These pulses should be generated as the westerly storm track focuses more towards WA and slowly edges through the Bight early next week under the influence of a strong node of the Long Wave Trough.
An initial pulse Monday afternoon should keep 3-4 waves hitting Middleton with 5ft sets at Waits and 2ft+ waves across the Mid Coast.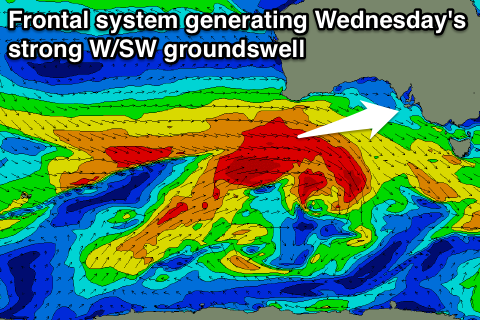 A larger increase is due into Wednesday though as a broad and vigorous front passes under WA Monday, aiming a broad fetch of W/SW gales through our swell window.
This should provide larger 3ft sets across the Mid into Wednesday afternoon, while the South Coast should increase to 3-5ft at Middleton and 4-6ft at Waits. Winds will remain favourable and from the NW for the most part Monday and Tuesday, while we may see a strong W/SW change through the day Wednesday.
This change will likely be linked to a larger swell producing frontal system through Thursday and Friday, but we'll discuss this in more detail on Friday.