Improving weekend, first proper stormy swell early next week
South Australian Forecast (issued Friday 20th June)
Best Days: Saturday down South and into the afternoon on the Mid, Sunday down South, Monday and Tuesday for stormy waves on the Mid
Recap
The South Coast was the pick yesterday with a mix of swells and persistent offshore winds. The Mid offered tiny waves that gave way to a NW windswell through the afternoon.
Today the South Coast is holding a similar size, while the Mid Coast is offering semi-stormy 2-3ft waves with a strengthening NW wind.
This weekend (Jun 21 - 22)
The W/SW swell hitting the state at the moment is expected to come in a little stronger tomorrow morning across the South Coast as the system pushes further south this evening and more through its swell window.
Middleton should see 3-4ft sets with larger 5ft waves out at Waits while the Mid Coast should ease from 2-3ft.
Winds will be onshore for the Mid tomorrow morning but should tend more variable into the afternoon creating improving conditions as the swell eases, while the South Coast will be good in protected locations a persistent W-W/NW breeze.
Sunday will see dropping swells but great conditions down South with a strengthening N'ly wind. It may be worth surfing the morning though as conditions will become tricky into the afternoon as winds pick up.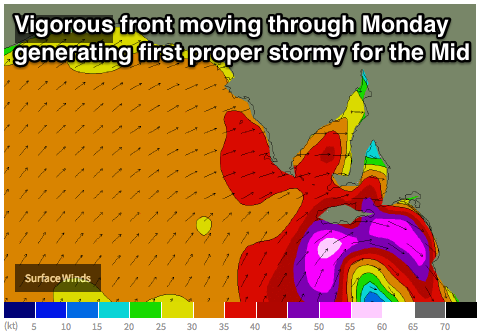 Next Monday onwards (Jun 23 onwards)
Monday is still a day to miss down South with a tiny swell and strong to gale-force NW winds early ahead of a W/SW change.
The Mid Coast however is expected to see large stormy waves in the 3-4ft range (the first proper stormy of the winter) developing as a vigorous and deepening frontal progression pushes through.
This strong could outbreak will be a result of a cold front crossing WA tomorrow, deepening as it pushes towards us through the Bight as it feeds off a large pool of cold air in the upper atmosphere (below right).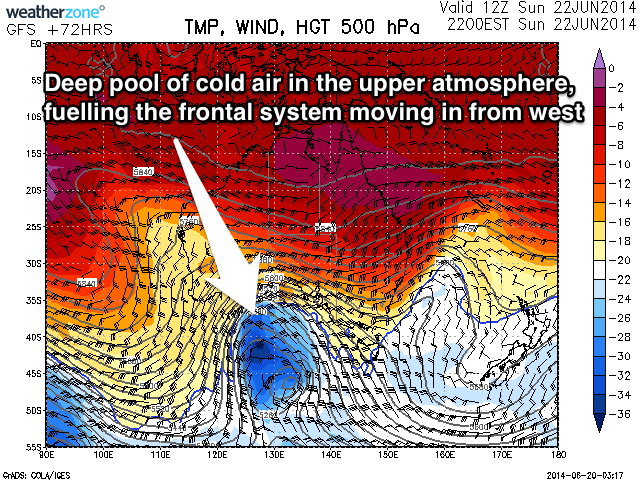 What will result is the formation of a much stronger and broader storm which is expected to slam into us Monday and Tuesday.
An initial fetch of severe-gale W/SW winds will push through Monday, generating the Mid's stormy swell with the South Coast kicking up later and building further Tuesday as a secondary low projects an additional fetch of severe-gale SW winds into the region.
Size wise, Tuesday is likely to come in at the large and stormy 6-8ft range, with the Mid seeing larger 3-5ft waves.
Winds are due to be gale-force but easing from the W/NW tending SW, limiting options across both coasts.
The models are still slightly divergent on the positioning of this cold outbreak though, so check back here on Monday for a more solid idea on the sizes, timing and local winds for next Tuesday/Wednesday.