South Thursday, stormy Mid Friday, South again Sunday
South Australian Forecast (issued Wednesday 18th June)
Best Days: Thursday down South, Friday both coasts for keen surfers, Saturday afternoon on the Mid, Sunday down South
Recap
Both coasts offered fun waves yesterday with a light variable wind and mix of swells to 1ft to occasionally 2ft on the Mid and 4ft at Middleton down South with bigger bombs out at Waits.
The swell backed off through the afternoon and is easing further today but conditions are great for more exposed spots down South with a nice offshore N/NE breeze. Winds should remain favourable all day as the surf continues to ease slowly.
This week and weekend (Jun 18 - 22)
A mix of long-range and inconsistent W/SW swell and better SW groundswell are due to fill in tomorrow across both coasts, with the South Coast performing the best with fresh to strong N/NW winds. Size wise the Mid Coast is expected to see bumpy 1ft to occasionally 2ft sets while the South Coast should build to a good 3ft at Middleton with 4ft sets at Waits.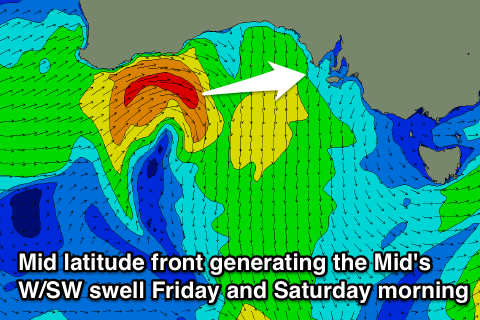 The Mid Coast should see more size Friday as a mix of W/SW windswell and stronger W/SW groundswell fill in from a vigorous front pushing through the Bight this evening before weakening while approaching Adelaide.
This should kick up semi-stormy 2-3ft waves Friday but conditions will be poor with fresh to strong NW tending W'ly winds.
The South Coast should hold around 3ft at Middleton with 4ft sets at Waits, but only protected locations will be worth a look with a strong NW tending W'ly breeze.
Into the weekend, wave heights are expected to slowly ease across the Mid Coast from 2ft to nearly 3ft early Saturday while some long-range groundswell energy should keep 2-3ft waves hitting Middleton through until Sunday morning, when a drop from 2ft+ is expected.
Winds will remain onshore for the Mid Saturday but improving conditions are due into the afternoon as winds tend more variable. The South Coast should see an early W'ly before swinging SW during the day.
Sunday will be the best day to surf down South with winds swinging back to the N/NW and freshening, creating clean conditions all day.
Next Monday onwards (Jun 23 onwards)
Monday will be a good day to rest as the surf bottoms out down South and strong to gale-force NW tending SW winds push through, kicking up a low quality but not huge 2ft of stormy swell on the Mid.
This will be related to a mid-latitude front moving in from WA, feeding off a deep pool of cold air in the upper atmosphere, resulting in it deepening while tracking across us and into Victoria.
Unfortunately the system will move rather quickly through our swell window, with only a quick up and down spike in stormy S/SW swell due through Tuesday to 4-6ft across most South Coast breaks, while the Mid should see choppy 2ft waves.
Winds will be strong but easing from the S/SW, creating poor conditions, with a steady drop in size due through Wednesday and Thursday with winds possibly tending variable.
There's the chance for a better follow up S/SW swell for the end of next week, but the models diverge this, so we'll have another look at this on Friday.