Great Thursday, dicey Friday morning, best early next week
South Australian Forecast (issued Wednesday 11th June)
Best Days: Thursday, possibly early Friday (keep eye on local obs), Sunday morning down South, Monday, Tuesday and Wednesday down South
Recap
The swell bottomed out through yesterday across the South Coast but conditions were great for Waits and Parsons with a fresh N/NE wind and small surf.
Today a slight lift in W/SW swell has provided inconsistent 1-2ft waves at Middleton, with more size out at Waits and Parsons under a fresh N'ly, while the Mid Coast has seen a tiny NW windswell pushing down the gulf.
A further kick in W/SW swell is due into the late afternoon to 1-2ft on the Mid and 2-3ft at Middleton as winds swing more NW.
This week (Jun 11 - 13)
There's been no real change to the W/SW groundswell due tomorrow and then bigger SW swell due Friday across the state, but winds on Friday are now looking average.
Tomorrow will be the best day to hit up the South Coast with a good amount of medium sized swell and fresh N/NW winds that should persist all day. Into Friday a deepening surface trough/low moving in from the west is due to cross the Adelaide region at some stage during Friday (bringing a strong onshore change) and the models are still divergent on when this will happen.
Latest updates have a strong onshore change in before dawn, but I feel we may see the system stall slightly, hence resulting in a period of variable winds early on both coasts Friday with 2ft of swell on the Mid and 3-4ft sets at Middleton with 4-5ft waves at Waits.
Keep an eye on the model forecasts over the coming day or so for indication of this early variable wind, and also the local wind observations.
This weekend onwards (Jun 14 onwards)
Saturday will be poor with a dropping swell from Friday mixed in with a new S'ly windswell from the surface trough moving across us. Strong but easing S/SW winds are due down South, while the Mid may see an early S'ly creating OK conditions, but keep your expectations low.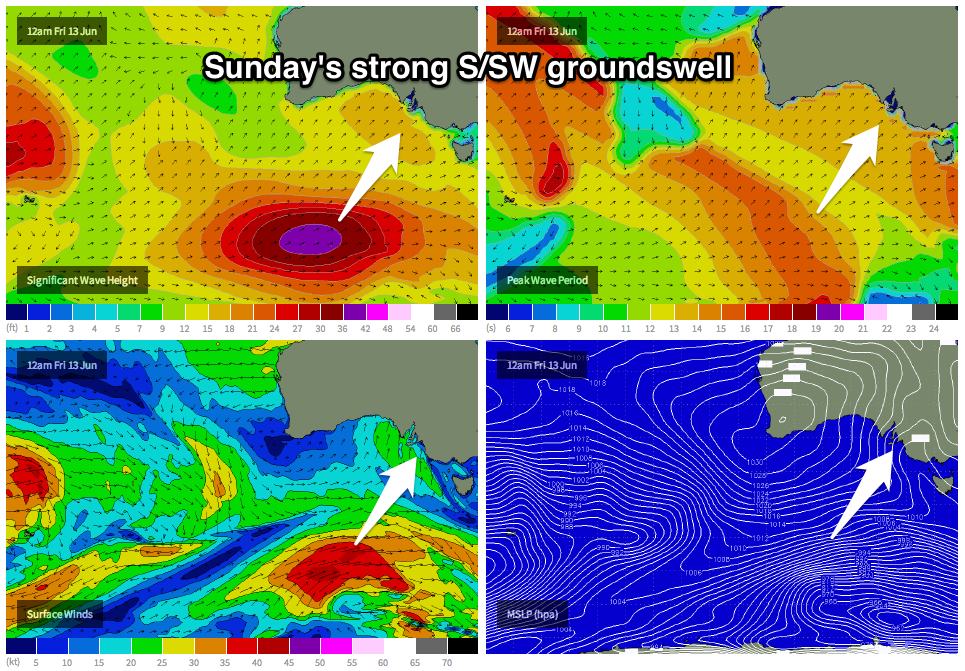 Sunday's new S/SW groundswell has been upgraded in size, with the polar front generating the swell coming in much broader and stronger than forecast through Monday. This system should produce a medium-large S/SW groundswell for Sunday coming in at 4-5ft+ across Middleton and 5-6ft at Waits, while the Mid Coast should persist in the 1ft range.
Winds should improve across both coasts, with an early W'ly likely down South, while the Mid Coast should see variable winds before increasing from the W/SW during the day.
Monday and Tuesday are looking much better though as the S/SW groundswell eases and winds clock offshore from the W/NW Monday and then N/NW Tuesday.
Longer term the models are wildly divergent on the possibility of an intense mid-latitude low pushing in from the west, generating a series of strong W/SW groundswells for late next week. With this divergence it's too hard to comment on what to expect, but hopefully we'll have a clearer idea on Friday.