Good swell Wednesday/Thursday with workable winds
South Australian Forecast (issued Monday 2nd June)
Best Days: Tuesday down South, Wednesday morning down South, Thursday both coasts, Friday morning down South, early Saturday and Sunday down South
Recap
The South Coast provided the best waves on Saturday with a clean fun swell during the morning before winds shifted around to the East during the afternoon. Sunday was also nice and clean early down South as an onshore change was delayed until about midday, while the Mid Coast saw lighter winds for most of the day with a continuation of tiny 1ft+ waves.
Today small-medium levels of W/SW swell have continued to 2-3ft at Middleton down South with better 3-4ft sets at Waits and a glassy 1-1.5ft on the Mid Coast. Winds should remain OK most of the day with only weak sea breezes expected.
This Monday onwards (Jun 2 - 8)
The surf should hold around a similar if not slightly smaller size compared to today across the South Coast tomorrow and winds will remain favourable for the most part with a NW tending fresh W/NW breeze. The Mid Coast will be average with a tiny 1ft of swell and deteriorating conditions with the freshening onshore wind.
Wednesday/Thursday's swell is still on track with the Mid Coast expected to offer the best waves.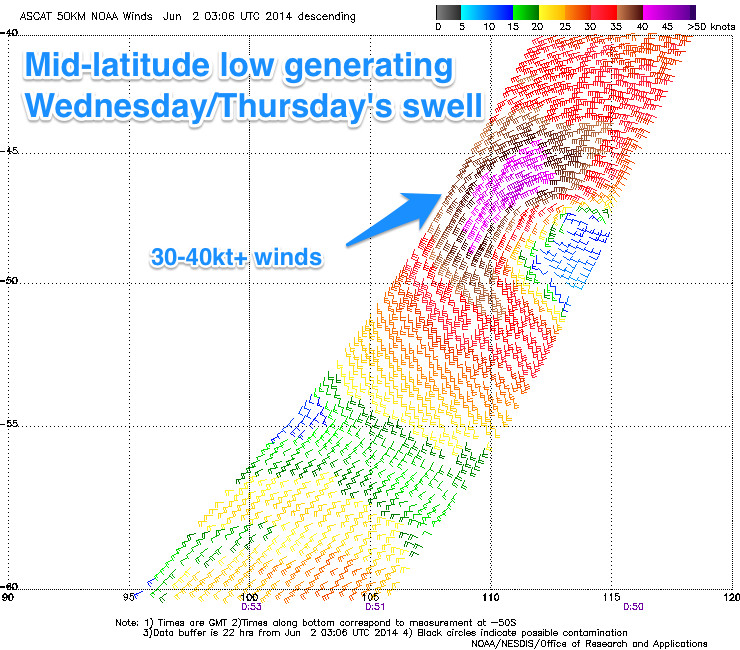 The initial direction of the groundswell will be from the W/SW Wednesday afternoon but Thursday should see the swell coming in more from the SW. This will be a result of the mid-latitude low generating the swell moving in from under WA today through our western swell window before moving east through our south-west swell window tomorrow.
A medium sized groundswell will result with the Mid Coast expected to build to 2ft during Wednesday afternoon before easing from a similar sized Thursday morning.
The South Coast should see Middleton building to 3-4ft with 4-5ft sets at Waits later in the day before holding around a similar sized through most of Thursday.
Winds will swing from an offshore NW'ly down the South Coast on Wednesday around to a weak SW'ly later in the day with a weak change. It'll be a race between the swell filling in and winds swinging onshore with the early afternoon probably offering the best waves.
Thursday should be great on the Mid with a light offshore wind, while the South Coast will be workable as well with a more variable breeze from the eastern quadrant.
Friday should be cleaner down South with a light NE'ly wind as the swell starts easing from 3ft around Middleton with 4ft sets at Waits.
This weekend onwards (Jun 9 onwards)
A mix of long-range and very inconsistent W/SW groundswell is due Saturday morning ahead of a better medium-range increase through the afternoon and Sunday morning. These swells have and will be generated in our far swell window to the west-southwest and south-west of WA.
The Mid Coast should pulse between 1-1.5ft on the favourable parts of the tide both Saturday and Sunday but the South Coast will offer the most size to an inconsistent 2-3ft at Middleton later Saturday and Sunday morning with 3-4ft sets out at Waits.
Winds will be funky but workable each morning with an early light W/NW'ly on Saturday around Victor due to give in to a fresh S'ly change, while Sunday should see early E/NE winds.
Longer term there's nothing too major on the cards with a large blocking high due to move in across the state early next week, deflecting any major frontal activity away from us. In saying this we may see a similar (but slightly weaker) setup to what we saw a few weeks ago with Southern Indian Ocean storms firing up towards WA, generating W/SW swell before deflecting to the south-east from the high, which will directing NE winds across the state.
More on this on Wednesday though.