Pumping weekend of waves
South Australian Surf Forecast by Ben Matson (issued Friday 16th May)
Best Days: Sat/Sun: great waves at Victor Harbor. Should be small waves across the Mid all weekend too. Mon: small clean surf down south with N'ly winds. Wed: moderate, easing swell with good winds. Thurs: small clean surf down south.
Recap: Plenty of small waves across the Mid Coast, although coming in at the lower end of the forecast size range (generally 2ft, against a forecast of 2-3ft). Pumping waves down south with a strong swell and offshore breeze, between 3ft and 5ft but inconsistent at times.
This week (May 15-16 onwards)
*note: forecast notes will be somewhat brief this week as Craig is on leave*
This weekend (May 17-18)
We've got a great weekend of waves on the cards. Persistent offshore winds will maintain clean conditions along the South Coast both days, and even though wave heights will ease through Saturday, there'll be plenty of excellent options (banks pending, obviously). Surf size should still maintain somewhere in the 3-4ft range at Middleton early morning (a foot or two bigger east of here and west of Victor), before becoming smaller into the afternoon.
A pulse of new swell generated by a front passing south of the state today will boost wave heights throughout Sunday back up into the 3-4ft range again at Middleton, with bigger waves again at exposed locations. There may be a period of smaller surf at dawn but it should be into fifth gear by lunchtime, holding through the afternoon.
Along the Mid Coast, Saturday's likely to see a slightly smaller version of what we've seen today, and with a similar northerly regime (say, inconsistent 1-2ft sets on the more favourable parts of the tide). Unfortunately, the low responsible for Sunday's pulse down south will reach maximum intensity just as it passes east of the Mid Coast's optimal swell window, so we will mainly see residual energy for the second half of the weekend. However lighter N'ly winds will result in slightly better surface conditions. In any case, there should be more than enough energy for some fun little waves on the reefs, somewhere above 1ft and possibly close to 2ft if we're super lucky.
Next week (May 19-23)
Another strong front trailing this week's progression is expected to intensify south of the state over the weekend, however the models have slightly pulled it back in strength and timing which means the resulting swell is not expected to make landfall until early Tuesday - meaning it won't be useful for surfers until Tuesday afternoon. So, Monday is likely to see easing swells with fresh offshore winds at Victor Harbor, and small residual across the Mid Coast around a foot or so.
Tuesday afternoon's swell increase may be accompanied by a light to moderate onshore change resulting from the frontal passage however winds will straighten back up to the north again on Wednesday, as a new high pressure system builds across the eastern states. This will coincide with the downwards phase of this swell event however there'll be great waves at Victor for mid-week surfers (again!).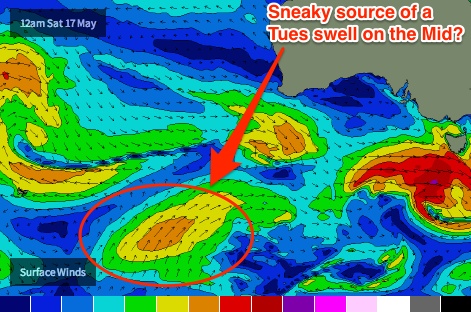 A secondary SW groundswell is also expected to arrive on Tuesday. It'll be generated by a polar low currently undergoing the early stages of cyclognesis off the ice shelf near 95E (see right). This long range groundswell may very well sneak some small inconsistent lines into the gulf throughout the afternoon - let's pencil in a foot or two for very patient surfers, and wait and see what happens here (because the main swell expected for Victor on Tuesday - generated by a different part of the fetch - will be more south in direction, less suited to the Mid Coast). I'm not super confident for anything significant at this stage, however the Mid Coast can certainly pull rabbits from hats under these kinds of quirky synoptic circumstances. There is a lot going on in the swell window right now.
Looking further ahead, and the overarching synoptic pattern during the first half of next week will be dominated by a large blocking high south of Western Australia. This will probably result in smaller surf throughout SA during the back half of next week and into the weekend.
Longer term (May 24 onwards)
As discussed above, the large scale blocking pattern to our west will probably result in smaller surf next weekend. However, a series of strong fronts and lows are likely to back up behind this and therefore the next stab at a decent swell event for will probably be the early to middle part of the following week (May 26/27/28) as the long wave trough starts to redevelop SW of Western Australia - and it could end up being quite large and windy in South Oz to boot. I'll talk about that in more detail on Monday.