Good S/SW groundswell late Friday/Saturday, larger S/SW swell for Monday/Tuesday
Bali and Mentawais forecast​​​​​​ by Craig Brokensha (issued Thursday 26th April)
Best Days: Bali - late Friday onwards (experienced surfers Monday and Tuesday AM, Ments - Friday afternoon through next Friday
This week and next (Apr 27 – May 4 )
Bali: We've got smaller surf across the region today, and it will continue to ease into tomorrow morning. Light morning winds will favour exposed magnets which should still be coming in at 3-5ft tomorrow morning (smaller on the Bukit).
Later in the day we should see our new long-period S/SW groundswell filling in, with this swell coming in strong yesterday afternoon and this morning across Western Australia.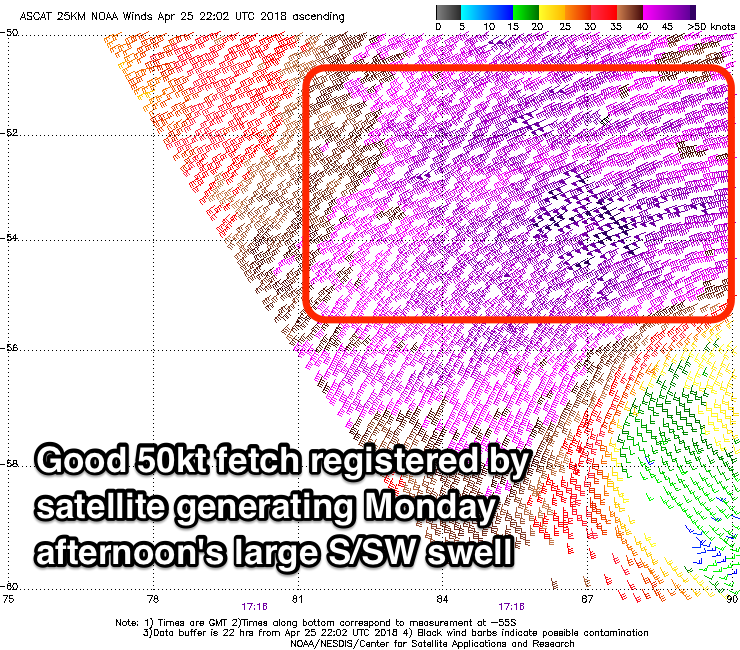 A late kick in size to 4-5ft+ is expected across the magnets, peaking Saturday morning to 6ft to possibly 8ft at super exposed spots. A drop in size is due through the afternoon, further Sunday with moderate to fresh E/SE trades (variable each morning).
We then look to our large long-period S/SW groundswell due Monday.
A vigorous polar low, with a mid-latitude front north of it developed just east of Heard Island yesterday, producing dual fetches of W/SW gales and severe-gale to storm-force SW winds in our southern swell window.
The W/SW fetch has generated an initial S/SW groundswell for later Sunday, kicking to 4-6ft, while the larger S/SW groundswell from the polar low should fill in Monday afternoon.
Our models are incorrectly combining later Sunday and Monday's swells and over-forecasting the size, but we can still expect large powerful 8ft+ surf across exposed breaks, with 10ft bombs likely later in the day at magnets, the morning is likely to be around 6ft to maybe 8ft.
The swell will drop fairly quickly into Tuesday from 6ft to possibly 8ft early, down to 4-6ft through the afternoon, smaller Wednesday.
A relatively weak but favourably tracking storm from south-east of Madagascar into the middle of the Indian Ocean should produce a fun SW swell for later Thursday and more so Friday coming in at 4-5ft.
Following this there's nothing too major until mid-week the 9/10th of May, but more on this Tuesday.
16 day Bali Forecast Graph
16 day East Java Forecast Graph
16 day Sumbawa Forecast Graph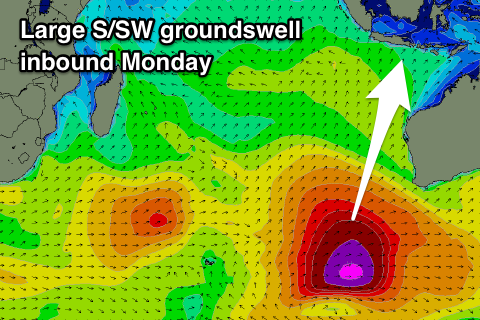 Ments: Unfavourable N/NW winds are blowing across the region with smaller easing surf, and we'll see these winds persist into tomorrow, easing later in the day and becoming more variable through Saturday.
Our new S/SW groundswell is due to build through tomorrow, reaching 4-5ft+ across south magnets later in the day and then easing from a similar size Saturday morning.
A low point in swell is expected midday Sunday ahead of the first pulse of S/SW groundswell later in the day. South facing reefs should build to the 4ft range by dark, with Monday morning coming in around 6ft on the sets.
Similar to Bali, a peak in the new larger S/SW groundswell is due later afternoon/evening with 6ft to occasionally 8ft sets, easing off through Tuesday from the 6ft range.
Winds should remain variable from Sunday through all of next week before taking a slight SE tendency from Friday.
The mid-period SW swell will be generated closer to us and should provide fun waves Thursday coming in at a good 4-5ft before fading late week.
16 day Mentawai forecast graph
16 day Nias forecast graph
16 day South Sumatra forecast graph