Small week, better swells from this weekend
Bali and Mentawais forecast​​​​​​ by Craig Brokensha (issued Tuesday 24th October)
Best Days: Bali - later Saturday onwards, Ments - Thursday, early Friday, Saturday onwards
This week and next (Oct 25 – Nov 2)
Bali: After fun waves late last week and into the start of the weekend, the swell has really faded away into this week, leaving waves only at exposed swell magnets.
Unfortunately as touched on last Thursday, there's no significant swells due through this week. The swell will continue to bottom out into tomorrow and Thursday, with some inconsistent background energy Friday.
From Saturday the 28th we'll start to see the surf slowly build, but this will be very inconsistent long-range SW groundswell energy, produced by a distant storm south-east of Madagascar.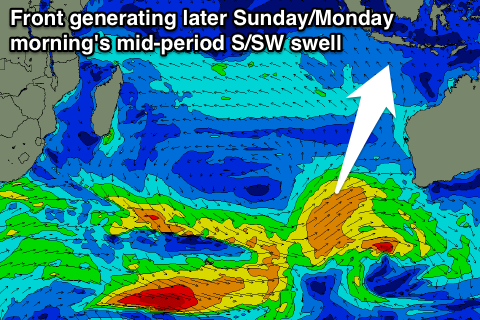 Only very infrequent 4-5ft sets are due across swell magnets later in the day, while into Sunday a better more consistent S/SW swell should fill in, peaking Monday morning the 30th.
This swell is being generated by a relatively weak but favourably tracking frontal system that's coming in from under South Africa, generating an initial long-period SW groundswell (due Monday afternoon/Tuesday) and is pushing north of Heard Island, up towards WA over the coming days.

We should see some fun sets pushing up to the 6ft range Sunday afternoon across exposed breaks, easing back from a similar size Monday morning, while the long-period energy will slow this easing trend into the afternoon.
Very inconsistent 5ft sets are due into the late afternoon, peaking in the 6ft range Tuesday the 31st ahead of some reinforcing S/SW swell Wednesday morning to a similar size.
Our models are over-forecasting the size later Tuesday and Wednesday morning as it incorrectly combines the reinforcing mid-period S/SW swell with the long-period groundswell, so keep this in mind.
Well then see the surf ease temporarily into Thursday morning the 2nd ahead of some new long-period and acute S'ly groundswell later in the day.
This swell is forecast to be generated by a very intense but late forming low south-west of WA this weekend, with a short-lived fetch of severe-gale W/NW winds due to be generated in our southern swell window.
The swell looks to boost wave heights back to 6ft at exposed south facing breaks, much smaller inside the Bukit due to the angle of the swell. From here on the surf will ease, with nothing significant due into the following week.
Coming back to the winds and our current variable breezes will take a S/SE-SE tendency from Thursday, variable each morning with local land breezes.
16 day Bali Forecast Graph
16 day East Java Forecast Graph
16 day Sumbawa Forecast Graph
Ments: Similar to Bali, the swell is quite small across the region, bottoming out tomorrow morning.
We should see some small SW groundswell from a low south-east of Madagascar building later tomorrow and peaking Thursday the 26th, providing surf in the 4ft range across magnets, easing back into Friday.
Similar to Bali we'll see some new background long-range S/SW groundswell arriving into Saturday, reaching an inconsistent 3-5ft across exposed breaks, dropping back slightly into Sunday morning.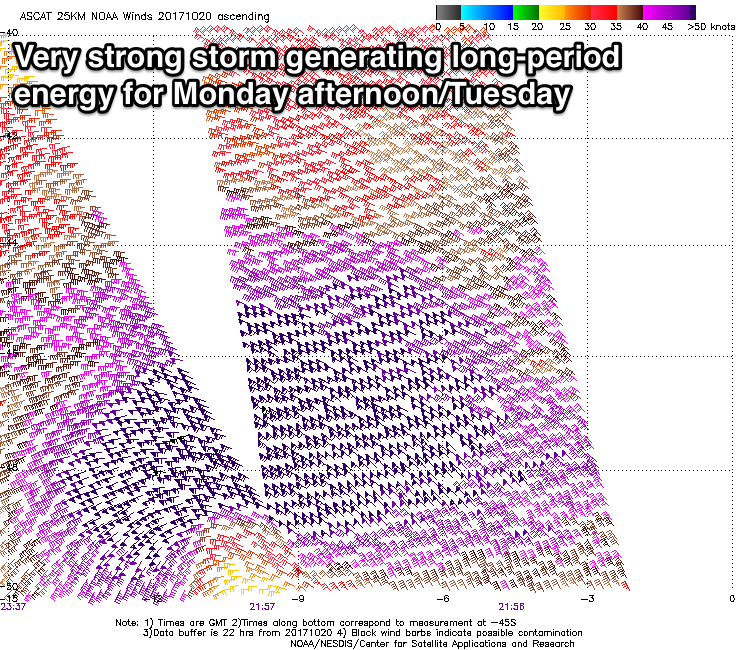 Some better long-period but inconsistent SW groundswell is due to build later Sunday andpeak Monday, generated south-west of South Africa by a very intense storm. This storm generated storm-force W'ly winds in our far window, continuing east closer towards us while weakening.
The remnants of this storm is the system firing up towards WA, pictured and should produce some additional S/SW swell for us into Tuesday.
But coming back to the long-period energy and we should see this swell building late Sunday to 4ft or so, reaching an inconsistent but strong 6ft on the sets Monday across exposed breaks, holding Tuesday before easing back through Wednesday from 5ft+.
We may see a slight kick in long-period S'ly groundswell later Thursday and Friday morning, but this swell isn't ideally aimed at all and will likely just provide 4ft+ sets, easing back Friday.
Looking at the winds over the coming period and we'll see good variable tending locally offshore breezes each morning, giving into afternoon sea breezes.
16 day Mentawai forecast graph
16 day Nias forecast graph
16 day South Sumatra forecast graph