Fun surf tomorrow and from later Sunday
Bali and Mentawais forecast​​​​​​ by Craig Brokensha (issued Thursday 5th October)
Best Days: All days through the forecast period besides Sunday
This week and next (Oct 6 - 13)
Bali: Fairly small waves across the region of late, though swell magnets have picked up some fun sets.
We should be seeing some new swell coming in at 3-5ft across exposed breaks this afternoon, holding tomorrow morning ahead of a better increase in S/SW swell tomorrow afternoon. This swell, generated by slow moving and long-lived polar low should see sets to 6ft at magnets tomorrow afternoon, easing from 4-6ft Saturday morning, smaller Sunday.
Next week through to next weekend looks really fun.
Firstly we'll see back to back polar fronts firing up from the Heard Island region towards WA, producing two good pulses of S/SW groundswell, the first for Monday ahead of a slightly larger pulse Tuesday afternoon.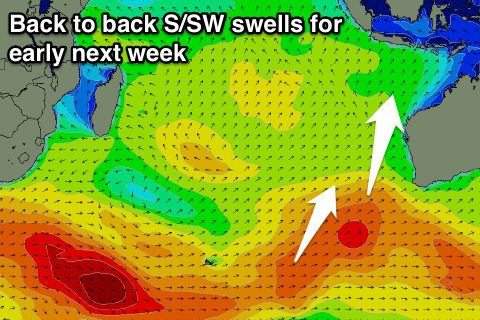 Monday's should come in around 5-6ft across exposed breaks into the afternoon, followed by a secondary kick Tuesday afternoon to a slightly bigger 6ft+ on the sets.
The surf is then expected to ease back slowly into Wednesday and Thursday morning, with some reinforcing S/SW groundswell for Friday but only to 5ft or so.
Into next weekend a good consistent S/SW swell is due from another strong polar front pushing up towards WA, with sets pushing back above 6ft into Saturday. We'll have a closer look at this Tuesday though.
Our current period of weak trades will increase a little through next week, becoming fresh into the afternoons, but light and variable each morning.
16 day Bali Forecast Graph
16 day East Java Forecast Graph
16 day Sumbawa Forecast Graph
Ments: We should be seeing a new S/SW swell building across the region today, reaching 5ft later today on the sets, easing slowly tomorrow from 4-5ft, smaller Saturday.
We then look at the S/SW swells due from the polar fronts pushing up towards WA, with the first system being better for us due to it pushing further north while staying a touch further west.
This swell is expected to build Sunday and reach 5ft later in the day, easing back from a similar size Monday morning. A reinforcing pulse should keep 3-5ft sets hitting magnets Tuesday before easing a little Wednesday.
Some new S'ly groundswell is due into Thursday afternoon, produced by polar fetches of W/NW gales west of Heard Island, with good 5ft sets due again later in the day, easing temporarily into Friday morning ahead of theweekend S/SW groundswell.
Winds are looking variable over the weekend and Monday before taking a slight NW tendency from Tuesday, easing back late week.
16 day Mentawai forecast graph
16 day Nias forecast graph
16 day South Sumatra forecast graph