Fun swells to end the week, very slow next week
Bali and Mentawais forecast​​​​​​ by Craig Brokensha (issued Tuesday 26th September)
Best Days: Bali - Every day this week, later Monday onwards, Ments - Every day this week and Saturday before the swell fades
This week and next (Sep 27 – Oct 5)
Bali: A good pulse of SW groundswell through Sunday afternoon and yesterday is easing back into this morning and we'll see a temporary low point through tomorrow.
Some new S/SW swell is expected to fill in Thursday, followed by a less consistent S/SW groundswell Friday afternoon.
The S/SW swell was generated over the weekend by a strong cold front spawning into a mid-latitude low off the WA coast over the weekend, with a good fetch of strong SW winds aimed through our swell window.
The swell will only be mid-period but should pulse to the 5-6ft range on the sets Thursday afternoon, dropping back a little into Friday morning.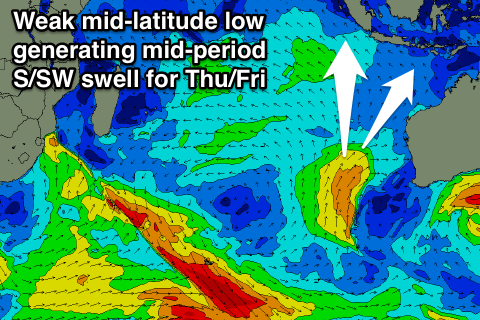 Into Friday afternoon a longer-period but less consistent S/SW groundswell is expected, generated by a distant polar frontal progression also on the weekend.
We should see inconsistent 5-6ft sets persisting across swell magnets Friday afternoon before easing from 4-5ft Saturday morning.
From here there's nothing major on the cards for next week besides moderate amounts of background S/SW groundswell, generated by late forming polar fronts in our southern swell window, south-west of WA.
We're only looking at surf in the 4-5ft+ range, mainly from later Monday and from Tuesday through most of the week.
Coming back to the expected winds over the coming period and fresh E/SE trades are due to weaken into the end of the week, tending more SE from Saturday afternoon and persisting in the moderate range through next week. Early each morning local land breezes will create variable winds at exposed spots.
Longer term we may see some better swell activity into the week starting the 9th of October, but more on this Thursday.
16 day Bali Forecast Graph
16 day East Java Forecast Graph
16 day Sumbawa Forecast Graph
Ments: Fun consistent amounts of S/SW groundswell have been seen across the region since Sunday but this energy should be easing into today, with the swell bottoming out into tomorrow and Thursday morning.
The mid-latitude over the weekend has generated a S'ly swell for us, with it expected to build Thursday afternoon and reach 6ft on the sets late, easing from 5-6ft Friday morning, smaller into the weekend.
Next week is looking really slow with the S/SW energy formed late in Bali's swell window being too far east for us resulting in small surf all week.
Winds are due to linger from the SE over the coming week, tending more variable from Monday and remaining so all next week.
Longer term we'll hopefully see that larger S/SW swell episode, but more on this Thursday.
16 day Mentawai forecast graph
16 day Nias forecast graph
16 day South Sumatra forecast graph