Large active period from the weekend
Hawaii North Shore, Micronesia and PNG forecast by Craig Brokensha (issued on Tuesday 8th January)
Best Days: North Shore later tomorrow and Wednesday morning, Thursday and Friday, experienced surfers Saturday through most of next week - Micronesia Thursday and Friday morning, Sunday onwards - PNG Wednesday morning, Monday morning and Tuesday morning for the most size ahead of the larger swell late next week
This week and next (Jan 9 - 18)
Hawaii: The swell has bottomed out across the North Shore with only small waves for desperate boardriders.
We should see a new mid-period NW swell building tomorrow, reaching 3-5ft at magnets late in the day, much smaller elsewhere and easing from the 4ft range Thursday morning.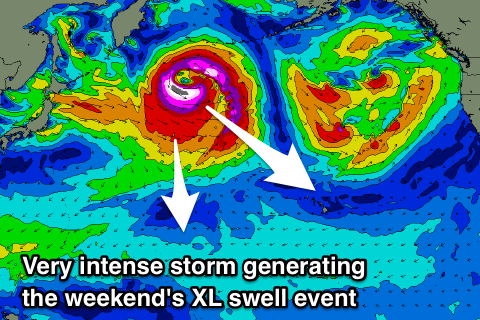 A better N/NW groundswell is due on Friday though, with it being upgraded since last Thursday. A tight and intense low will develop late in our northern swell window, projecting a fetch of gale-force NW winds towards the islands mid-week.
Northerly friendly breaks should see easy 6ft sets Friday morning before easing into the afternoon and bottoming out early Saturday. Winds will be favourable with light morning offshore breezes, with weak afternoon E/NE trades.
We then look towards the much more significant swell event due over the weekend.
This swell has been downgraded a touch since Thursday but will still come in around the XL size range.
A deepening low pressure system will spawn off Japan, with a broad fetch of gale to severe-gale W/NW winds due to be generated through our north-western swell window, with core wind speeds reaching storm to hurricane-force.
The low will stall east of the date line which will put a slight cap on the size of the swell, but we're still due to an XL long-period NW groundswell, building very rapidly on Saturday and reaching 15-20ft by dark (larger across deepwater reefs). Sunday morning should see similar size sets as a result of the low stalling, with a slow drop due through the afternoon and further Monday.
We'll see a secondary front spawn off the backside of the broad stalling low, projecting a slow moving fetch of gale-force W/NW winds towards us, producing another oversized NW groundswell for Tuesday afternoon and Wednesday morning more in the 12-15ft range.
Winds for the weekend's swell are excellent with offshore E/SE breezes, while next week is also looking good besides a possible bumpy start to Tuesday morning.
A large reinforcing mid-period NW swell is expected late next week, but more on this Thursday.
North Shore Forecast Graph
North Shore WAMs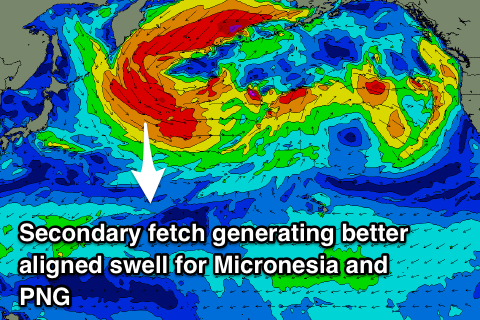 Micronesia: The surf has been on the downwards trend and we'll see it bottoming out tomorrow morning ahead of an increase in E/NE trade-swell and mid-period N'ly swell Thursday.
North facing reef passes should see good surf around 4ft Thursday but with less than ideal and gusty NE trades, better and out of the E/SE as the swell eases from 3ft Friday morning.
The deep and powerful low generating Hawaii's XL groundswell will generate an initial mid-period N'ly swell followed by the groundswell shortly after. The mid-period energy may be seen late Saturday but Sunday looks to reveal the most size with 4-6ft sets across the north facing reef passes, easing off slowly into early the following week. Winds look favourable and weaker out of the E/NE.
The secondary front spawning off the back of the initial storm will be better aimed through our swell window and looks to generate a stronger N/NW groundswell for later Wednesday to 4-6ft, peaking Thursday morning to a more solid 6ft, easing slowly therafter. More on this Thursday.
Palikir Pass Forecast Graph
Palikir Pass WAMs
Papua New Guinea: Winds are still a bit of an issue today but we'll see them relax into tomorrow and more so Thursday, and the weekend and next week looks mostly favourable with morning W/SW-SW breezes.
A mix of mid-period N'ly and E/NE swells in the 3ft+ range tomorrow are due to ease through the end of the week, with small 2ft to occasionally 3ft waves due until Monday next week.
This is when we'll see the first pulse of inconsistent N'ly swell, offering 3-4ft sets, while the better swell late week looks to provide stronger 4-5ft+ waves across the region. Lets hope this holds true, but check back Thursday for an update on this.