Good NW-W/NW swell event this week
Hawaii North Shore, Micronesia and PNG forecast by Craig Brokensha (issued on Tuesday 1st January)
Best Days: Every day over the coming period
This week and next (Jan 1 - 11)
Hawaii: The swell has bottomed out across the North Shore, but from tomorrow we should see our good NW and W/NW swell event filling in.
Initially mid-period energy will be seen tomorrow morning ahead of a stronger long-period increase later in the day and more so Wednesday.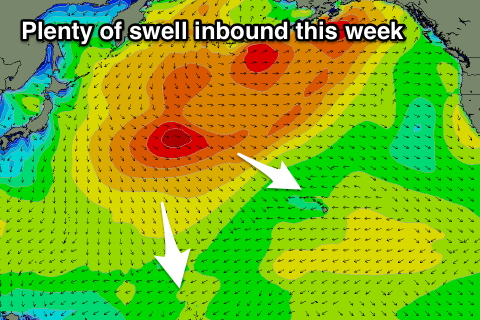 These swells have been generated by a broad multi-centred low sitting just east of Japan with embedded storms bringing big snow dumps and generating broadening and strengthening W/NW fetches. One final low projected towards us yesterday and this is expected to generate the largest and most consistent swell for Thursday.
Tomorrow will be inconsistent with 3-4ft sets on the coast, kicking later to 5-6ft, with Wednesday due to still come in at 6-8ft+, with Thursday providing the odd bigger 10ft cleanup.
Conditions look great with fresh E'ly trades, tending more E/NE on Thursday and Friday as the swell eases back from 5-6ft.
Unfortunately from here there's nothing of significance on the cards at all with only small mid-period swells due from Tuesday through the end of the week coming in around 4-5ft on the sets. Late in the week we may see a stronger N/NW groundswell with a possible XL swell to follow, but more on this Thursday.
North Shore Forecast Graph
North Shore WAMs
Micronesia: We should be seeing our first pulse of mid-period N/NW swell building across the region though with less than ideal and strong NE winds.
Larger levels of long-period energy is expected through tomorrow with good sets to 6ft+ across our northern reef passes, with Thursday's larger swell coming in more around 8ft on the biggest ones.
Winds will unfortunately persist from the NE, along with moderate amounts of E/NE trade-swell creating tricky conditions.
A drop in swell is expected through Friday, smaller into Saturday and Sunday as winds slowly improve with nothing of significance due through next week besides E/NE trade-swell.
Palikir Pass Forecast Graph
Palikir Pass WAMs
Papua New Guinea: A tropical depression to our east is creating poor conditions across exposed breaks as fresh NW winds feed into it.
These winds will persist over the coming period, strengthening from the W/NW from the weekend and persisting until late next week when they might start to ease.
This will spoil building levels of NE trade-swell and N'ly groundswell, with a peak in size expected on Friday to 4-5ft+, easing slowly from Saturday.