Multiple swells for all regions
Hawaii North Shore, Micronesia and PNG forecast by Craig Brokensha (issued on Tuesday 27th November)
Best Days: North Shore Wednesday and Thursday, Sunday and Monday, later Wednesday - Micronesia Friday, Sunday and Monday morning's - PNG every day
This week and next (Dec 12 - 21)
Hawaii: Transplanted from the latest Pipe Masters Forecast Update.. Strong trade-winds and unfavourable northerly swells have resulted in a few lay days for the Billabong Pipe Masters, but fret not, we've got better days to come as the trades slowly weaken and a series of long-period groundswells fill in.
Tomorrow will be a low point in swell, likely resulting in another lay day, but come Wednesday a moderate-sized long-period NW groundswell is due to fill in.
The swell will be inconsistent due to being generated by a storm near the distant the Kamchatka Peninsula and Aleutian Islands.
A building trend is expected all day, with sets reaching 6ft+ by dark Wednesday with gusty E/NE trades, easing back quickly to 4-6ft Thursday morning. This will provide good enough waves to get the trials out of the way.
Friday and Saturday look generally small with a mid-period NW swell offering surf to 3-5ft at its peak Friday, fading Saturday.
Later in the waiting period we've got back to back storms forecast to develop in Hawaii's swell window. The first storm will form south-east of the Kamchatka Peninsula with a burst of severe-gale westerly winds through the north-western swell window. The low will then broaden and strengthen north of the islands, producing an additional northerly component to the swell.
The swell should fill in on Sunday and provide 6-8ft+ sets across Pipe with weak E/SE trades and clean conditions, possibly slightly bumpy into the afternoon.
A secondary and stronger low is due to develop on the back of the initial storm, projecting a fetch of severe-gale to storm-force north-west winds through Hawaii's northern swell window, producing a large northerly groundswell for Tuesday that looks to come in around 10ft+ on the sets. Winds may become an issue though, tending back to the north-northeast, though we'll continue to watch developments closely.
North Shore Forecast Graph
North Shore WAMs
Micronesia: Unfortunately there isn't much in the way of N'ly swell due over the coming period, with the storm track not being favourable at all for our region.
Instead we'll see moderate levels of E/NE trade-swell across the region through this week, fading through the weekend just as local and gusty E/NE trades relax. A typhoon developing in the trade-flow will push north of our region but generate the largest pulse of swell for Friday, with waves likley across the north facing reef passes, but small. This swell will then ease into the weekend.
Sunday and Monday morning look to provide windows for a surf across the exposed eastern reef passes with variable winds each morning. Longer term we're due to see the trade-swell start building again from late next week and into the following weekend.
Palikir Pass Forecast Graph
Palikir Pass WAMs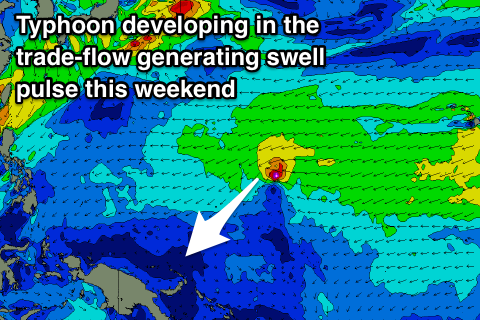 Papua New Guinea: The coming period looks fun with small levels of persistent NE trade-swell due across the region along with generally variable winds, light offshore each morning with weak afternoon sea breezes.
The trade-swell is being generated by a stationary fetch of E/NE trades between Hawaii and Micronesia, with fun persistent surf in the 3ft+ range due from tomorrow through Friday, with a slightly bigger pulse on the weekend from the typhoon mentioned above.
We should see good 3-5ft sets developing later Saturday and more so Sunday morning, before easing slowly into early next week back to 3ft+.