N/NW groundswell to end the week but with average winds
Hawaii North Shore, Micronesia and PNG forecast by Craig Brokensha (issued on Thursday 15th November)
Best Days: North Shore Thursday morning, Friday, Saturday - Micronesia next Wednesday
This week and next (Nov 15 - 23)
Hawaii: Our current N/NW groundswell has peaked and will ease off from here, with the swell due to drop further through tomorrow with clean conditions in the morning ahead of NE sea breezes.
Swell magnets are expected to ease back from 4-5ft+, smaller into early Friday.
Our new N/NW groundswell for the afternoon is still on track, with a relatively weak low strengthening north-northwest of us, aiming a fetch of N/NW gales in our northern swell window while retracting away from us to the north.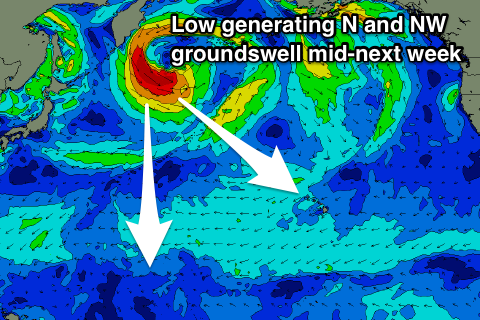 A moderate to large N/NW groundswell should be seen, building to 6ft+ across north swell magnets but with strong NE trades, easing from the 5-6ft range Saturday as strong E/NE-NE trades persist.
There's nothing significant due until a new long-period NW groundswell arrives through Tuesday afternoon next week, generated by a strong though distant low forming off the Kamchatka Peninsula later this week.
A good fetch of gale to severe-gale NW winds will be projected towards us, but the low will stay just south of the Aleutian Islands.
This will result in an inconsistent long-period NW groundswell, building through Tuesday and reaching 4-6ft by dark, easing from a similar size on Wednesday.
Unfortunately a strong high will move in when the swell arrives, squeezed by a surface low to our north-northeast, bringing poor N/NE-NE winds and a mid-period junky N/NE swell later week.
The size of this looks to override the NW groundswell and come in around 6-8ft or so, but we'll have another look at this next Tuesday.
North Shore Forecast Graph
North Shore WAMs
Micronesia: Nothing much of note still this period but we'll see the trades slowly kick back in, creating average conditions across the more exposed east facing reef passes.
Swell wise, the best looks to arrive next Wednesday, generated by that low forming off the Kamchatka Peninsula.
This swell will be very inconsistent but should provide 3ft to occasionally 4ft sets across the north facing reef passes Wednesday, easing back slowly through Thursday. Longer term the high forming over Hawaii will block any decent swell generating systems for us.
Palikir Pass Forecast Graph
Palikir Pass WAMs
Papua New Guinea: We should be seeing some fun though inconsistent NE trade-swell across the region today to 2-3ft, with it easing off slowly from tomorrow, smaller into the weekend.
A low point in swell is likely early next week with background levels of small inconsistent N/NE swell only likely to reach 2ft or so through the rest of the week, fading into next weekend. Therefore make the most of the current swell.