Upgrade in our N/NW groundswell due this week
Hawaii North Shore, Micronesia and PNG forecast by Craig Brokensha (issued on Tuesday 13th November)
Best Days: North Shore tomorrow afternoon through Sunday morning
This week and next (Nov 14 - 23)
Hawaii: We've got easing levels of N'ly swell across the islands today along with better E/NE trades, improved from the weekend.
We'll see the swell bottoming out into tomorrow morning ahead of our N/NW groundswell into the afternoon and Wednesday.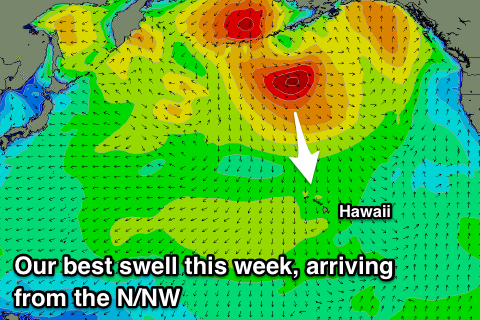 We've had an upgrade in the size since last Thursday with a storm forming off the Aleutians having multiple embedded features, aiming persistent NW gales through our northern swell window.
A moderate to large N/NW groundswell is now due, building tomorrow afternoon and reaching 6-8ft by dark across north swell magnets, holding a similar size Wednesday morning before easing off later and more noticeably through Thursday.
Winds will continue to improve, E-E/NE tomorrow and weaker and SE Wednesday morning ahead of NE sea breezes.
Stronger E/NE trades will kick back in through Friday through the weekend and all of next week.
Swell wise a new mid-period N/NW groundswell is due later week but beyond this the outlook will go very quiet with no real swell of consequence expected at all.
Friday's swell will be generated by a small, tight and weak low drifting in from the north-west over the coming days, strengthening north of us though at the same time retracting north.
This isn't ideal but we'll see a fetch of N/NW gales aimed towards is, producing a fun pulse of swell that will build to 6ft+ across north swell magnets, easing back slowly from the 6ft range Saturday morning, further Sunday with as stated above, nothing of note next week.
North Shore Forecast Graph
North Shore WAMs
Micronesia: Currently SW winds and a NE trade-swell are providing fun options across the exposed reef passes, with fun waves due tomorrow morning before the swell backs off into the end of the week.
Generally variable winds will be seen through the coming period but with no decent groundswell, just small pulses of N/NE trade-swell.
The low projecting from the north-west towards Hawaii is expected to generate a small glancing N'ly swell for Sunday though Tuesday, peaking Monday to 3ft max on the sets.
Palikir Pass Forecast Graph
Palikir Pass WAMs
Papua New Guinea: Our small pulse of NE trade-swell due through the middle to end of the week is about the best we've got to hope for over the coming period.
The fetch of E/NE trades generating this has already weakening, leaving a small inconsistent NE swell to spread down and towards us. Swell magnets should build to 2-3ft through Wednesday, hold Thursday and then ease off through Friday, smaller into the weekend.
From here we're looking at smaller surf around 2ft+ though with favourable winds, light offshore each morning and with afternoon sea breezes.