Large NW swells for Hawaii with workable winds
Hawaii North Shore, Micronesia and PNG forecast by Craig Brokensha (issued on Thursday 8th February)
Best Days: Hawaii - Friday, Saturday, later Sunday through Thursday next week - Micronesia - Tuesday through Friday next week - PNG - Swell magnets on the weekend, Wednesday onwards
This week and next (Feb 7 - 16)
Hawaii: Easing surf the last couple of days and with average NW winds this afternoon.
Tomorrow will become smaller and gusty N'ly winds will create poor conditions.
Into Friday though we've got better NE winds expected along with a large new NW groundswell.
The more favourable winds are due to a slight weakening of the storm generating Friday's swell, with a slight downgrade in the expected size from Tuesday's update.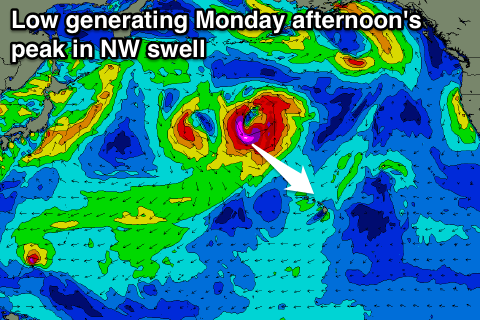 We saw a fetch of gale to severe-gale W/NW winds projected through our northern-western swell window yesterday, weakening into today, with the groundswell due to build through Friday, overpowering a local N/NW windswell and peaking through the afternoon.
The North Shore should build to 8ft to occasionally 10ft with gusty NE winds, easing back from the 6ft range Saturday morning as E/NE trades kick back in.
Sunday should be smaller with weaker E/NE tending NE winds.
Later in the day and more so early next week we should see some good large NW groundswell energy filling in.
There'll be two pulses, one more distant and inconsistent, arriving later Sunday and peaking Monday ahead of a larger more consistent NW pulse for the afternoon, easing Tuesday.
The initial pulse will be generated by a good fetch of W/NW gales south-east of the Kamchatka Peninsula, generating 6-8ft of swell by itself for Monday morning.
A secondary stronger and closer but unconsolidated low is forecast to aim a fetch of gale to severe-gale (core storm-force) NW winds through our swell window while retracting northwards.
This isn't ideal but the storm on top an active sea state should generate a quick pulse of large NW groundswell for the afternoon, reaching 8ft to occasionally 10ft at magnets before easing from the 6-8ft range Tuesday morning, smaller Wednesday.
Winds are looking favourable with E/NE trades and afternoon sea breezes Monday and then S/SW Kona winds through Tuesday, more variable Wednesday.
As the NW groundswell eases, some reinforcing N/NW groundswell is due from the low as it slowly retracts to the north, keeping surf around 4-6ft Wednesday before fading Thursday.
Longer term we're looking at long-range and small to moderate sized pulses of groundswell through next weekend and beyond, but more on this Tuesday.
North Shore Forecast Graph
North Shore WAMs
Micronesia: Fading N/NE swell yesterday, further today with no decent swell on the cards until those strong E/NE-NE trades develop through the weekend and next week.
The trade-fetch looks a little weaker than forecast on Tuesday and with this we're expected to see protected north facing breaks out of the wind reaching 3-5ft through Tuesday next week, holding Wednesday before easing into the afternoon, down further into the weekend.
Strong E/NE trades will limit surfing options to these protected breaks.
Palikir Pass Forecast Graph
Palikir Pass WAMs
Papua New Guinea: We've got some inconsistent but persistent N/NE swell across the coast at the moment providing 2-3ft surf, with this due to ease over the weekend, futher into early next week.
Our NE trade-swell from mid-next week looks good with sets due to reach the 4ft range from Wednesday, persisting through until the weekend and then slowly tailing off early next week.
Winds look less than ideal tomorrow and from the N/NW with a touch of strength, tending more variable through the weekend, before increasing out of the W/NW mid-week.
We'll confirm this Tuesday.