Swell drought to break but with average winds
Hawaii North Shore, Micronesia and PNG forecast by Craig Brokensha (issued on Tuesday 30th January)
Best Days: Hawaii - Tuesday morning, selected spots Thursday through Sunday, Wednesday next week, Micronesia - Wednesday, Monday onwards next week, PNG - protected spots over the coming days, more exposed breaks from early next week
This week and next (Jan 31 – Feb 9)
Hawaii: After a tiny run of surf we've got a mix of long-range W/NW groundswell to 3ft or so today, and we should see a slightly better N'ly groundswell pulse for tomorrow.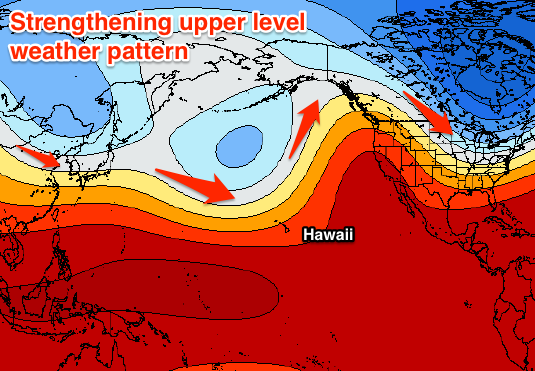 This swell, generated to our north off Alaska should provide sets to 4-5ft across north swell magnets as SW Kona winds freshen.
The swell is expected to ease later in the day, smaller Wednesday as S/SW winds persist.
Now, as touched on last update, from later this week we'll see the blocking pattern break down, with a flurry of strong storm activity due to project south and persist owing to a strengthening upper level jet stream.
We'll see an initial small front project a fetch of NW gales down towards us over the coming days, generating a large mid-period NW swell for Thursday, reaching 10ft on the sets across magnets Thursday afternoon/evening, fading back from 6ft to occasionally 8ft Friday morning.
Gusty S/SW winds will limit surfing options across the North Shore.
A much broader, elongated and stronger fetch of gale to severe-gale NW winds will be projected straight towards Hawaii later this week, followed by a secondary burst Friday.
What we'll see is an XL W/NW groundswell event, arriving later Friday and peaking through Saturday afternoon/evening to a consistent and raw 15-18ft+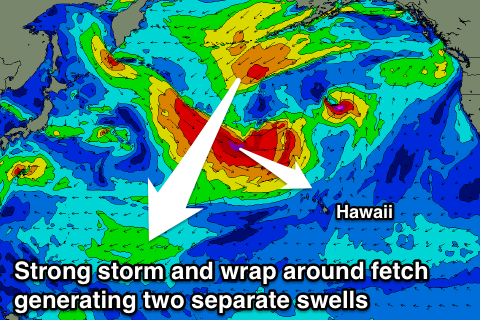 The easing trend will be slowed Sunday by the secondary burst of winds towards us, with easing surf from the 15-18ft range.
Continued weaker fetches of strong to near gale-force NW winds through the weekend and early next week will continue to generate large levels of mid-period W/NW swell through Monday and Tuesday morning, easing into mid-late week.
Now, winds will remain out of the S/SW and strengthen on Sunday, swinging W/NW into Monday as the frontal activity slowly retracts, with a slow anti-clockwise shift in winds back to the NE through Tuesday and Wednesday.
Longer term we're likely to see a large NW groundswell the following weekend (10/11th Feb), but more on this next update.
North Shore Forecast Graph
North Shore WAMs
Micronesia: A good pulse of N/NW groundswell seen Sunday and Monday has dropped back into this morning, but a new reinforcing pulse is due to arrive this afternoon, generated by good storm activity off Japan.
We should see 4-5ft sets at swell magnets open to the north swell later today, easing back from 3-5ft Wednesday morning, smaller Thursday.
From here there's nothing significant on the cards until next week with small levels of E/NE trade-swell along with gusty E/NE winds, though a fetch of N/NE winds wrapping around the storm activity focussed towards Hawaii will likely generate some new N/NE swell for early next week.
The swell is expected to fill in Monday, reaching 3-5ft at north swell magnets, before easing a touch into Tuesday, slowly down the rest of the week.
Palikir Pass Forecast Graph
Palikir Pass WAMs
Papua New Guinea: Our current mix of small E/NE trade-swell and W/NW winds will persist over the coming days. Sets to 2-3ft are due, while some new inconsistent N/NW groundswell should be seen tomorrow afternoon and evening to 3ft, easing from a similar size Thursday morning.
The N/NE swell impacting Micronesia early next week should arrive through Tuesday across our region and peak Wednesday to 3ft on the sets, though very inconsistent.
We should see NW winds easing into next week and tending more variable through the mornings, even better into next weekend as the small mix of swells persist around 2-3ft.