Slow period, larger from late next week
Hawaii North Shore, Micronesia and PNG forecast by Craig Brokensha (issued on Thursday 25th January)
Best Days: Hawaii - Tuesday, Wednesday morning, Thursday and Friday next week, Micronesia - Sunday through Thursday, PNG - protected spots over the coming period
This week and next (Jan 26 – Feb 2)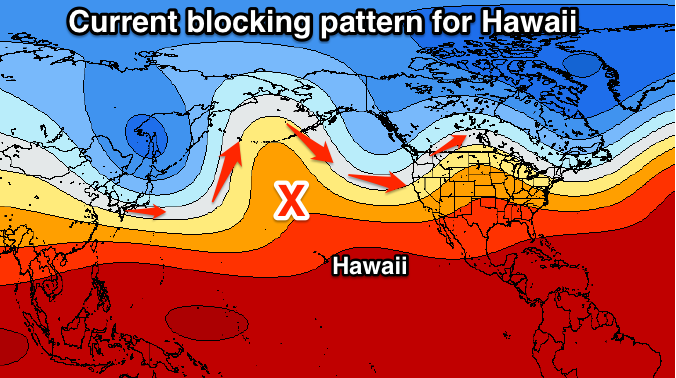 Hawaii: The pumping long-period swell seen earlier this week is easing and will continue to fade into the end of the week, with nothing really of not due through the coming fortnight. This is due to a pronounced upper level blocking pattern, with storms spawning off Japan being deflected to the north.
Make the most of today, because a weak W/NW windswell on Friday afternoon and Saturday will struggle to get above 3ft, while a N'ly groundswell for Tuesday from a low off Alaska looks to come in at 4-5ft across north magnets.
E/SE trades tomorrow will tend variable into Friday and the weekend, with SW Kona winds Tuesday and Wednesday with the new N'ly groundswell.
A small pulse of NW groundswell is expected later in the week from a broad but patchy fetch of NW winds being aimed towards us this weekend as the storm generating the fetch retreats back towards the Kamchatka Peninsula.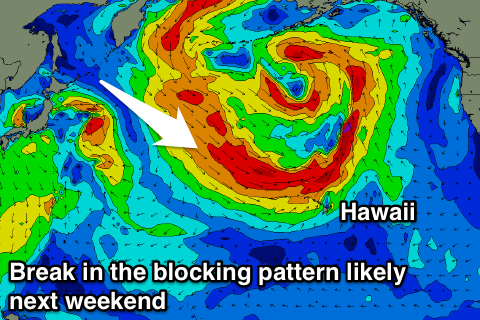 With this, only a small pulse to 4-5ft+ is expected on the North Shore Thursday, fading into Friday with variable winds. Also in the mix with this swell may be a close-range NW swell from a tight low forming north-west of us, but the models are still divergent around this.
Longer term the models have the blocking pattern breaking down, with fronts due to push right down into the Hawaiian Islands bringing lots of wind and swell, but more on this Tuesday.
North Shore Forecast Graph
North Shore WAMs
Micronesia: We've got some fun pulses of N/NW groundswell due over the coming weekend and early next week, generated by the storms spawning off Japan.
Two back to back and similar sized swells are due, but the first will be strongest, generated by the stronger fetch.
We should see building surf through Sunday, reaching 4-5ft later in the day, easing from 3-5ft Monday. The secondary pulse for Tuesday should build to a similar size later in the day and ease slowly Wednesday.
Gusty E/NE trades are expected over the coming period, favouring those protected reef passes exposed to the north swells. Longer term there's nothing major due besides trade-swell, but more on this Thursday.
Palikir Pass Forecast Graph
Palikir Pass WAMs
Papua New Guinea: Weak E/NE trades sitting between Micronesia and Hawaii are resulting in small levels of NE trade-swell across the region, below normal standards.
We're only expected to see small surf to 2ft+ for the most part, increasing a touch more towards 2-3ft through next week.
The N/NW groundswell will be inconsistent but should arrive around PNG Monday, building to 2ft to occasionally 3ft into the afternoon, holding a similar size Tuesday morning. The secondary pulse looks slightly better and more around 3ft Wednesday afternoon and Thursday.
Winds look dicey over the coming period and fresh from the W/NW, tending NW with a small tropical depression lingering in the region.Therefore exposed breaks will be mainly average.