Small swells mid-week, larger surf from later in the weekend
Hawaii North Shore, Micronesia and PNG forecast by Craig Brokensha (issued Tuesday 14th November)
Best Days: North shore Wednesday and Sunday onwards
This week and next (Nov 15 – 24)
Hawaii: Very small surf the last day or so and we'll continue to see small waves continue into tomorrow.
Come Wednesday our new pulse of mid-period W/NW swell is still on track, generated by a relatively weak mid-latitude low to our west.
The size looks to only be around 3-5ft across magnets, while a mix of distant mid-period N/NE swell and NE trade-swell will also be in the mix.
The models are incorrectly combining these two sources of swell into Wednesday and over-forecasting the size, with sets due to reach a similar size to the W/NW swell though at north friendly breaks.
Gusty E/NE winds will only favour more protected breaks though, with both swells fading into Thursday, small again into Friday and Saturday.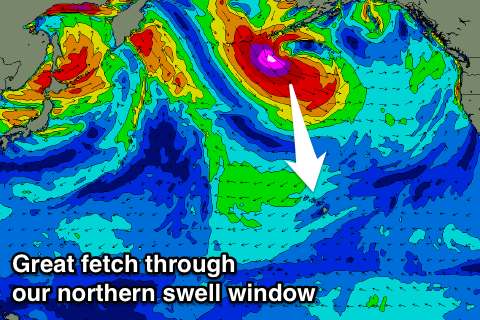 As touched on last update, we'll continue to remain void of any major swell generating systems in our north-west swell window as a large blocking setup persists.
What we will see is storms forming through our northern swell window, the first off the Aleutians later this week, followed by a much more significant storm in a similar location through the weekend.
We'll see an initial moderate to large mid-period N/NE swell generated by the first storm, with some N/NE windswell ahead of it Sunday, building to 6ft+ across north facing locations, with the stronger swell Monday, coming in at 8ft on the sets.
A temporary drop in size is due into Tuesday ahead of the long-period XXL energy from the N'th late in the day, peaking Wednesday.
We're looking at 15-20ft waves out of the N'th at this stage if all goes to plan and with weak NE winds, though we'll have a closer look at this Thursday.
North Shore Forecast Graph
North Shore WAMs
Micronesia: A new N'ly swell should be building across our north facing breaks today, but only mid-period energy and reaching 3-4ft or so, easing back slowly from 3ft+ tomorrow morning. Gusty E/NE trades will limit the best waves to protected reef passes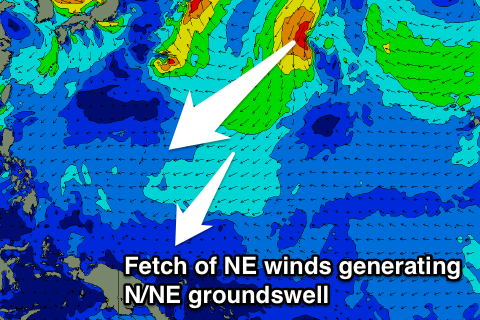 From here the swell will become small, ahead of some new N/NE groundswell over the weekend.
This is being generated by a tropical low squeezing a strong high pressure system south-east of the Kamchatka Peninsula, with a good fetch of strong to nearly gale-force N/NE winds being aimed through our swell window.
We should see exposed breaks to the north-east building to 4-6ft through Sunday with weak E/NE trades, while more protected spots will be smaller but fun.
From here there's nothing significant on the cards at all.
Palikir Pass Forecast Graph
Palikir Pass WAMs
Papua New Guinea: Minimal amounts of background NE swell will continue across the region until the N/NE groundswell impacting Micronesia heads further south and builds across the coast later Monday.
A peak in swell is due Tuesday but only to an infrequent 3ft or so across exposed north facing breaks with variable winds, fading back in size Wednesday. Beyond this there's nothing else major due.