Sunday, 20 March 2016
Mix of large N'ly and NW swells tomorrow, easing into the coming week
Hawaii North Shore forecast by Craig Brokensha (issued Sunday 20th March)
Best Days: Sunday and Monday
Tomorrow and this week (Mar 20 - 15)
We're currently in the first phase of our N'ly swell episode with a large increase Friday afternoon, dropping back into this morning. A new pulse of N'ly swell has started to kick this afternoon and will continue overnight, peaking tomorrow. This has been generated by the low stalling to the north, with fetches of storm-force N/NW winds being aimed through our northern swell window.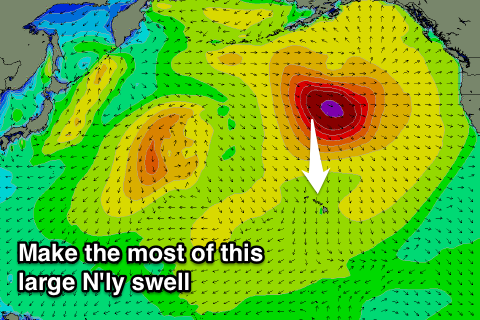 This largest pulse of swell should peak tomorrow morning to 10-12ft across breaks that favour northerly swell energy, larger on the islands to the east. The swell should ease back through the afternoon, down steadily from the 6ft range on the sets Monday morning.
Also in the Sunday will be a strong but inconsistent long-period NW groundswell from a vigorous low forming off Japan last week. Inconsistent 6ft to sometimes 8ft sets are due off this swell through the morning before it eases back into the afternoon and further Monday.
Good but fresh and gusty E/NE trades are due tomorrow, weaker into Monday while tending more SE.
Variable winds are then due into Tuesday and Wednesday as the swell bottoms out, with only small background energy due on the later to 2-3ft max.
Longer term there's nothing significant at all on the cards until possibly the end of the month with the North West Pacific Ocean becoming real subdued. Therefore make the most of tomorrow and Monday before the surf really backs away.