Windy couple of days, fun weekend
Eastern Tasmanian Surf Forecast by Craig Brokensha (issued Wednesday December 7th)
Best Days: Tomorrow morning, protected spots for the keen Friday morning, Saturday morning, Sunday morning
Features of the Forecast (tl;dr)
Easing E/SE swell tomorrow with strong W/SW-SW tending S winds
Moderate sized S swell for later tomorrow, holding Fri, easing Sat
Strong S/SW-SW tending S-S/SE winds Fri
Fun sized SE swell Sat with SW tending SE winds
Easing SE swell Sun with NW tending fresh E/NE-NE winds
Recap
Large surf out of the S/SE-SE yesterday, cleanest in southern corners with S'ly winds. This morning the swell started to ease with a bit more east in the direction and conditions were cleaner across more exposed breaks. Winds are now slightly onshore but good for southern corners.
This week and next (Dec 8 - 16)
We'll see the E/SE swell continue to ease back through tomorrow thanks to the low to our east dropping away to the south-east. 2ft to occasionally 3ft sets are due across exposed spots early, easing further through the day.
A new trough come deepening low off our coast tomorrow will bring a rapid increase in S'ly swell through the afternoon, with the fetch off our coast now looking to be stronger and more robust.
We should see mid-period energy rising rapidly to 4ft into the afternoon across south magnets, holding 4ft+ Friday as winds remain strong S'ly off the coast.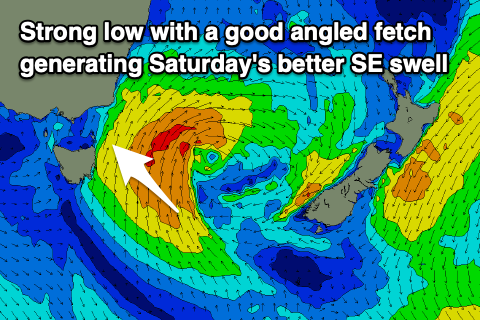 Unfortunately due to the stalling nature of the low to our east over the coming days, windy conditions will prevail, strong W/SW-SW tending S'ly tomorrow and S/SW-SW tending S-S/SE on Friday.
The low will start weakening through Saturday but a good infeed of S/SE winds on its south-eastern flank should provide a final pulse of SE swell that is expected to come in at 3ft to possibly 4ft across northern ends, easing Sunday from 2ft+.
Winds look to become favourable for south swell magnets Sunday with a NW tending E/NE-NE wind, cleanest and best in the morning.
Looking at Monday's N/NE windswell potential and it's been downgraded thanks to a strong mid-latitude low forming west of the state, pushing east quickly, cutting off the infeed of strengthen winds. We may see stray 1-2ft sets but lower your expectations.
Once the low moves east and past us we may see some small S'ly swell later next week, but in the meantime make the most of the coming swells!