Friday, 7 February 2020
Very active and dynamic period ahead
UNLESS YOU LIVE AT THE BEACH, PLEASE DON'T TRAVEL TO SURF
COVID-19 is changing the way we think about surfing. Travelling to the surf now means you're putting an unnecessary strain on the resources of small regional communities. So, please stay home. If you live near the beach and want to surf, please maintain a healthy spacing in the lineup, don't hang in the carpark, and keep your surf sessions shorter to allow others the opportunity to get wet. Above all, stay happy, healthy and look out for one another.
Eastern Tasmania Surf Forecast by Craig Brokensha (issued Friday 7th February)
Best Days: Tuesday nothern corners and south corners on dark, southern corners Wednesday and Thursday
Recap
A good spike in new S'ly groundswell yesterday, cleanest in the morning with variable winds out of the S'th and good sized sets.
The swell eased through the afternoon and this morning there's not much left on the coast with average conditions.
This weekend and next week (Feb 8 - 14)
Tomorrow still looks poor with fresh to strong S/SE winds and a building windswell from the same direction but with no size. There'll also be a small NE windswell to 1-2ft, but the quality poor.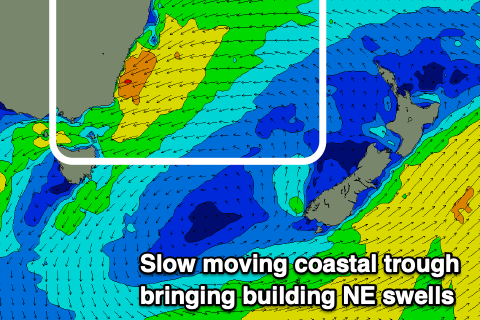 Come Sunday we should see some better E/NE-NE swell building across the coast as an infeed of E/NE trades flowing into a coastal trough drifts slowly south and more into our swell window.
This trough is forecast to become really intense off the southern NSW coast and in our north-eastern swell window, with the swell due to build in size and period through Sunday but more so Monday, with windswell in the mix Tuesday as the trough continues further south and off us.
With this winds and conditions look generally poor with a fresh SE-E/SE wind on Sunday and building NE swell from 2-3ft to 3ft+ later but larger Monday and building to 6ft+ out of the NE.
Unfortunately winds will remain poor and strong out of the E on Monday, NE Tuesday and strong, easing later and possibly tending N/NW with a S'ly change on dark. Size wise surf to 6-8ft is expected on Tuesday, easing from Wednesday and more to 4-6ft with great S/SW tending SE winds.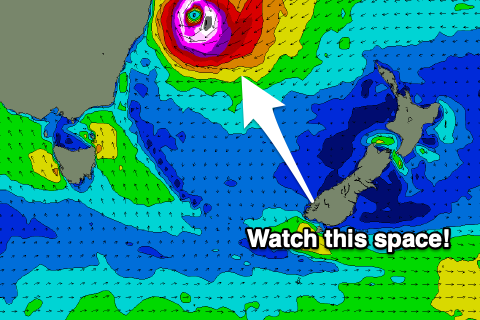 Following this drop in swell and southerly change, a tropical cyclone forming in the Coral Sea looks to drift south and turn extra-tropical through the middle to end of next week while tracking south through the Tasman Sea.
This is due to generate a large pulse of NE groundswell late next week/weekend with SE swell also in the mix and strong SE winds. This is a very dynamic period though and could change around a little (though the models are starting to converge) so check back here on Monday for the latest rundown. Have a great weekend!