Monday, 25 November 2019
Poor outlook continues
UNLESS YOU LIVE AT THE BEACH, PLEASE DON'T TRAVEL TO SURF
COVID-19 is changing the way we think about surfing. Travelling to the surf now means you're putting an unnecessary strain on the resources of small regional communities. So, please stay home. If you live near the beach and want to surf, please maintain a healthy spacing in the lineup, don't hang in the carpark, and keep your surf sessions shorter to allow others the opportunity to get wet. Above all, stay happy, healthy and look out for one another.
Eastern Tasmania Surf Forecast by Craig Brokensha (issued Monday 25th November)
Best Days: No surf days
Recap
A tiny leftover NE swell Saturday, effectively flat yesterday and today.
This week and weekend (Nov 26 – Dec 1)
Unfortunately the coming period remains void of any major swell.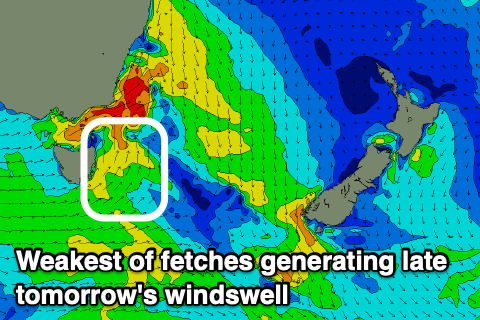 A strong S'ly change tomorrow isn't expected to generate any significant S'ly swell, with any size due to drop rapidly from dawn Wednesday.
Expect tiny to flat conditions.
Other than this, a small and weak fetch of SE winds along the polar shelf may generate 1-2ft of S/SE swell on Saturday, but with onshore S/SE winds.
We then look onwards to next week, and a stalling node of the Long Wave Trough is expected to move slowly east later next week, opening up our southern swell window to back to back polar fronts.
The direction of these fronts looks favourable for swell generation, but we'll have a closer look at this in coming updates.