Friday, 22 November 2019
Check another coast
UNLESS YOU LIVE AT THE BEACH, PLEASE DON'T TRAVEL TO SURF
COVID-19 is changing the way we think about surfing. Travelling to the surf now means you're putting an unnecessary strain on the resources of small regional communities. So, please stay home. If you live near the beach and want to surf, please maintain a healthy spacing in the lineup, don't hang in the carpark, and keep your surf sessions shorter to allow others the opportunity to get wet. Above all, stay happy, healthy and look out for one another.
Eastern Tasmania Surf Forecast by Craig Brokensha (issued Friday 22nd November)
Best Days: No good days
Recap
A slow start to yesterday but the N/NE swell kicked in as expected with sizey and consistent sets into the afternoon, but only cleaning up from late afternoon.
Today the swell was smaller and back to 2ft or so and winds quickly came up from the NE again.
This weekend and next week (Nov 23 - 29)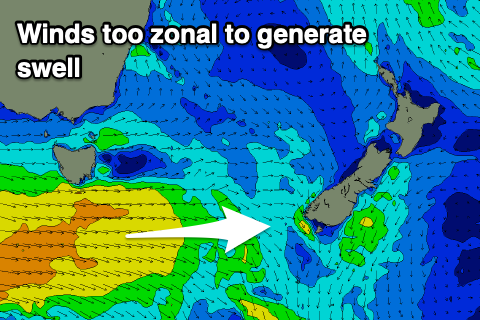 I hope you had a chance to surf the N/NE swell yesterday as the outlook is void of any swell at all.
Tomorrow morning may reveal a leftover 1ft to maybe 2ft wave, but I'd expect mostly tiny conditions. Winds will be good though and offshore from the W/NW, freshening through the day.
There's nothing to talk about at all unfortunately so if looking for a surf, try the South Arm notes. Have a great weekend and check back Monday for an idea when the next swell will be.