Friday, 8 November 2019
Fun S'ly swells for the weekend
UNLESS YOU LIVE AT THE BEACH, PLEASE DON'T TRAVEL TO SURF
COVID-19 is changing the way we think about surfing. Travelling to the surf now means you're putting an unnecessary strain on the resources of small regional communities. So, please stay home. If you live near the beach and want to surf, please maintain a healthy spacing in the lineup, don't hang in the carpark, and keep your surf sessions shorter to allow others the opportunity to get wet. Above all, stay happy, healthy and look out for one another.
Eastern Tasmania Surf Forecast by Craig Brokensha (issued Friday 8th November)
Best Days: Saturday and Sunday morning south swell magnets
Recap
No change to the surf the past couple of days as tiny to flat conditions prevailed.
This weekend and next week (Nov 9 - 15)
Tomorrow's S'ly swell is looking fun with a great fetch of broad S'ly winds projected up through our southern swell window yesterday and this morning.
South swell magnets should see 2-3ft of S'ly swell tomorrow, easing later in the day and back from 2ft on Sunday.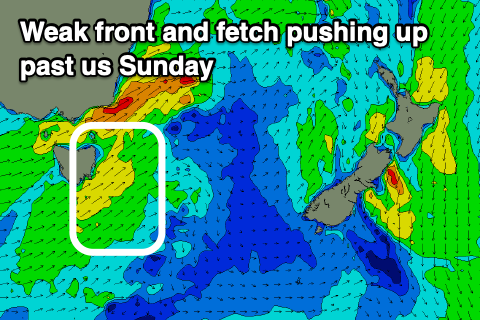 A weak front pushing up past us on Sunday may keep 1-2ft waves hitting south magnets into the afternoon, fading Monday from a similar size.
Conditions tomorrow look good with a W/NW offshore lasting most of the day, while Sunday will see a morning W/NW breeze, shifting SW ahead of SE sea breezes. A W/NW tending N/NW breeze will then favour the south magnets again Monday.
The surf is due to be tiny to flat until later next week when we may see a series of relatively strong cold fronts pushing up and past us. The models diverge on the track and position of each front though, and any change will greatly affect our swell potential.
Therefore check back here Monday for a clearer idea. Have a great weekend!