Monday, 7 October 2019
Good run of swell from the weekend
Eastern Tasmania Surf Forecast by Craig Brokensha (issued Monday 7th October)
Best Days: Northern corners later Saturday, Sunday, Monday, Tuesday morning, Wednesday afternoon and Thursday next week
Recap
A small clean S'ly swell for Saturday ahead of a building N/NE windswell yesterday, solid late in the day and still 2-3ft but fading rapidly this morning.
This week and weekend (Oct 8 - 13)
We've got an active period ahead, mostly from later in the week and into the weekend.
Tomorrow, a strong S'ly change pushing up and past us might generate some small S'ly windswell later in the day, but conditions will be poor with strong S/SE winds.
The swell is likely to ease overnight from a small 2ft at south swell magnets, tiny elsewhere and with a dawn W/SW breeze, swinging SE through the day.
This change will be linked to a trough that will then deepen into a Tasman Low during the middle of this week, slipping towards the southern tip of New Zealand Thursday and Friday.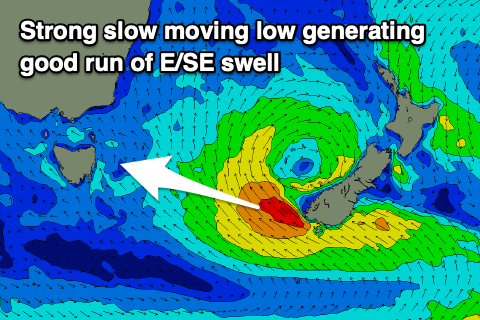 Initially the low will be too far north of our swell window but as it drops south-east and stalls, we'll see a great fetch of strong to gale-force E/SE winds aimed through our eastern swell window from Thursday morning until Saturday as it slowly weakens with the low breaking down Sunday.
A great, prolonged E/SE groundswell is due from this source, with some weaker mid-period energy likely building Friday ahead of the groundswell proper Saturday and Sunday.
At this stage we're looking at great 4-5ft surf Saturday and Sunday, easing slowly from the 3-4ft range on Monday, smaller again Tuesday.
Winds unfortunately look onshore Saturday and from the E/SE tending NE as a ridge of high pressure moves in, much better Sunday and N/NW tending stronger N/NE and N/NW most of Monday.
As the E/SE swell fades Tuesday, a secondary low forming in the Coral Sea and drifting south-east towards New Zealand is forecast to generate a burst of strong to gale-force E'ly winds off the North Island's West Coast Monday afternoon and evening.
A smaller but fun E/NE swell should be seen from this source, building Wednesday to 2-3ft, easing from a similar size on Thursday with W'ly winds as cold fronts start to move across us.
We'll have a closer look at this on Wednesday though.