S'ly swell all week, with NE mixed in on Wednesday
Eastern Tasmania Surf Forecast by Guy Dixon (issued Monday 23rd November)
Best Days: Tuesday and Wednesday at south facing beaches, Wednesday at open beaches
Recap:
Saturday didn't offer many workable options with an undersized swell despite the clean morning conditions. Sunday brought much better options across south facing beaches as the swell kicked in the afternoon under a westerly breezes that persisted throughout the day. Furthermore, today saw offshore breezes continue with plenty of 3ft options across the south swell magnets.
This week (Tuesday 24th - Friday 27th):
Frontal activity is only set to continue over the coming days generating more of the great southerly swell that we have seen today.
The remnants of this morning's southerly groundswell will continue throughout Tuesday morning, with exposed south swell magnets offering options in the 2ft range. Tiny elsewhere.
Another strong front is looking to move across the Southern Ocean this evening, although it's alignment is more westerly than the last. This system is likely to produce another pulse of southerly groundswell due to fill in late on Tuesday, providing a kick to around 2-3ft at exposed south facing beaches.
Northwesterly breezes are likely to dominate most of the coast, strongest north of St Helens. Further south, closer to Bicheno, the airflow is likely to be lighter and more northerly, increasing in the afternoon. Generally speaking, conditions should be clean and workable throughout the day.
Southerly energy from Tuesday's late kick will gradually fade from the 2ft+ range throughout Wednesday. Moderate/fresh winds are likely to prevail form the northwest early, tending northerly throughout the day and likely having an impact on the quality at open beaches. These gusty northerly breezes should also whip up a small northeasterly windswell during Wednesday afternoon, however the quality will be ordinary.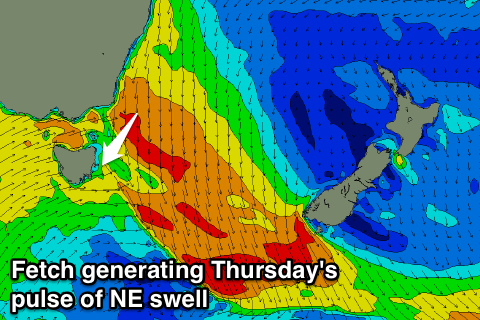 Thursday is expected to see south facing beaches ease further from the 1-2ft range, however open beaches may see the peak of northeasterly windswell generated the day before. The morning session has the potential for peaks in the 2ft+ range under moderate/fresh west/northwesterly breezes tending west/southwesterly.
A third frontal progression is forecast to move over the nation's southeast late on Wednesday, with west/southwesterly breezes in it's wake generating a pulse for the early hours of Friday.
South facing beaches should wake to options in the 2ft range, fading in the afternoon with favourable light offshore breezes all day.
This weekend (Saturday 28th - Sunday 29th):
A lot of the significant swell generators dry up leading into the weekend as the long wave trough becomes less pronounced over eastern Australia. Frontal activity is likely to decrease with only a weak front likely to provide small options on the 1-2ft range for Sunday.