Small but clean on Wednesday preceding gusty S'ly change
Eastern Tasmania Surf Forecast by Guy Dixon (issued Monday 19th October)
Best Days: Wednesday morning and Sunday
Recap:
Conditions were tiny on Saturday with the surf struggling to crack the 1ft mark at times. Sunday saw a touch more size out of the south, with sets in the 1ft range at exposed spots further north. The only saving grace was an offshore flow which kept conditions nice and clean. It was a similar situation today, small swell nudging the 1ft mark at the magnets under northwesterly breezes.
This week and weekend (Tuesday 19th - Sunday 25th):
Background southerly energy will maintain a dribble small surf throughout Tuesday, likely only translating to weak 1ft sets at south facing beaches. Conditions will remain clean as light/moderate north/northwesterly breezes prevail throughout the day.
The northerly fetch that we have been expecting to develop off the coast of NSW on Tuesday afternoon/evening is no longer looking that great. As the northerly winds increase to the 20-30kt range late on Tuesday, their alignment is dicey and the fetch is pushing east of the swell window.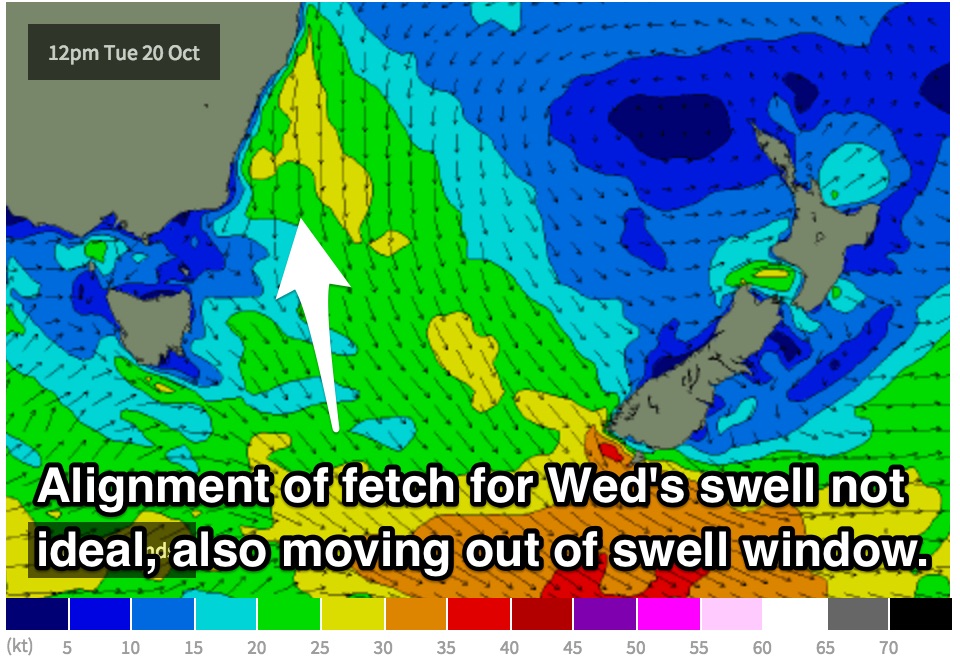 As a result, Wednesday morning's northeasterly swell has been downgraded to the 1-2ft range at open beaches under an east/northeasterly breeze preceding a particularly gusty southerly change. As this change moves through mid-morning, a short range southerly swell will rapidly increase across exposed south facing beaches to the 3-4ft range.
The quality of this southerly swell is likely to be poor due to it's local nature. Gusty southerly breezes will render the surf pretty much a write off until conditions improve the following day.
The surf will fade rapidly, likely in the 2ft range by dawn on Thursday, however winds will have eased significantly and swung around to the southwest. The morning session is expected to offer workable peaks at south facing beaches.
The remainder of the week and weekend will see small dribbles of back ground energy keeping the surf in the 1ft range.
The only significant feature to take note of is a near stationary polar low which will generate a small fetch of southeasterly severe gales throughout Wednesday. Sunday has the potential to build into the 2ft range, however consistency will be an issue due to the long range nature of the system.
South facing beaches will be the best option on Sunday as a northerly flow is also expected to increase. These spots should offer good exposure to the swell and protection from the wind.