Ordinary outlook, Tuesday small but workable
Eastern Tasmania Forecast by Guy Dixon (issued Friday 9th October)
Best Days: Tuesday
Recap:
The last few days have been pretty quiet in terms of swell. Thursday felt a small increase in southerly energy which was providing semi-surfable 1-1.5ft peaks under northwesterly breezes in the morning. A fresh northeasterly breeze picked up, but as the sun came up this morning there wasn't much to show for it, just remnant inconsistent southerly lines every so often in the 1ft range.
This weekend and next week (Saturday 10th – Sunday 11th onward):
The outlook for the coming week looks fairly bleak, as have the previous few forecasts.
Frontal systems moving through the swell window in the coming days have poor alignment, lacking the northward motion that we like to see for any significant southerly energy. Instead, we will have to rely on weak refracted energy which will only really be surfable further north at the magnets.
Tuesday is still looking like the most promising day size wise. A trough will have moved over the Tasman and will interact with a building ridge to steer a gusty local southerly flow on Monday. As a result, the surf should build into the 1-2ft range at exposed magnets by Tuesday morning. By this stage, the ridge should have moved over head allowing winds to drop and become variable leading to small but workable conditions.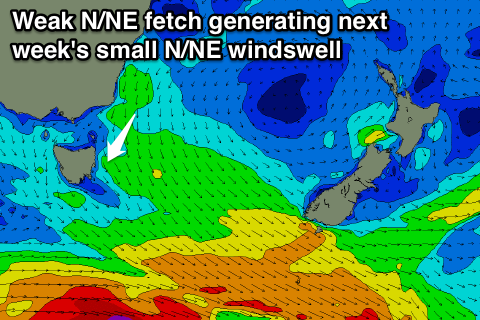 Later in the week, a gusty northerly fetch will increase ahead of a front. This near stationary fetch looks to increase over a 24-36 hour period whipping up a peaky short range wind swell. Mixed in with background southerly energy, open beaches should be offering peaky 1-2ft surf under a gusty northerly flow on Thursday preceding a southerly change on Friday.